11 December 2008 Edition
Fifth Column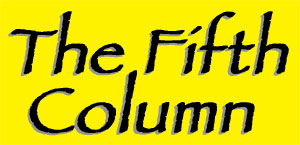 RSF reindeer strike fury
CHRISTMAS is a time for fun and frolics for children all over the world and nowhere is this more evident than in the latest press release from the tiny party styling itself 'Republican Sinn Féin'.
A bit like the relatives you've fallen out with, not just at Christmas but for many years, we tend to generally ignore our estranged, one-time cousins in RSF but this seasonal offering by Limerick Northside RSF election candidate Mick 'The Quill' Ryan from Ballynanty is a Christmas cracker.
Headlined Reindeer Strike Adverts Hit Children, Mick The Quill pens a bitter broadside against mobile phone company Meteor for using pantomime reindeer in its TV ads.
The Quill is all aquiver because, he says, "multinational companies are sowing seeds of doubt in the minds of young children over the arrival of Santa".
I'll let Mick The Quill take up this sad Christmas tale in his own words.
"The fact that companies like a huge mobile phone firm can use advertising that features the reindeers talking about going on strike is in bad taste and affects the views of children."
No laughing gnomes in Ballynanty RSF this yuletide, Santa.
"We have had complaints from parents who say that their children are concerned about a reindeer strike and the fact that Santa depends on the reindeers to deliver the Christmas presents.
"While an adult can appreciate the point being made by the advertising [thank god the unions aren't being blamed for this one], young children do not have the same perspective and tend to repeat what they see and hear."
Not like RSF, eh, Mick? Ho, ho, ho.


Brits tortured Obama's grand-dad
WHEN new US President Barack Obama takes his Christmas phone call from Buckingham House or 10 Downing Street it will be a somewhat more cordial contact with British rulers than his paternal grandfather had back in Kenya during the freedom struggle known as the 'Mau-Mau Uprising'.
Barack's grand-dad was tortured to make him inform on guerrillas (or in Guantanamo-speak: he was a 'terrorist suspect' or had knowledge of such). In fact, he was an intelligence officer working for the so-called 'terrorists'.
Hussein Onyango Obama spent two years in a high-security prison near Nairobi, Sarah Onyango, Obama's step-grandmother and his grandfather's third wife, has revealed. (She's the woman Obama calls 'Granny Sarah'.)
"He said they would sometimes squeeze his testicles with parallel metallic rods," Sarah Onyango said in The Times newspaper. "They also pierced his nails and buttocks with a sharp pin, with his hands and legs tied together with his head facing down."
Obama's grandfather became involved with the Kenyan uprising while he worked as a cook for a British Army officer before being arrested in 1949.
"His job as cook to a British Army officer made him a useful informer for [the rebellion]," Granny Sarah (87) said.
Obama's grandfather was taken to a maximum-security prison outside of Nairobi.
"The African warders were instructed by the white soldiers to whip him every morning and evening until he confessed," Sarah said. The torture left Obama's grandfather permanently scarred.
"That was the time we realised that the British were actually not friends but, instead, enemies," said the granny of the new president of the USA.


Tory tout out
THE good citizens of Croydon are reeling from the resignation of their council's education chief after she was outed last week as allegedly being a member of the IRA almost 40 years ago.
What made the story even more bizarre is that Maria Gartland (nee McGuire) has been a senior Conservative Party local government official for decades – until she was exposed by a British Communist Party activist hacked off at Tory school plans.
Gartland stood down as supporters claimed that her past means nothing now and, indeed, is a badge of pride. So why did she keep it from her Tory colleagues until she was forced to resign?


Pretty things
YOU might not expect a hardened republican columnist with more than 25 years' service to admit this, but I can relate to some of what Maria McGuire/Gartland has told reporters:
"I was very concerned about what was happening to my country and believed joining the IRA was the way to do something about it."
And you were right, Maria. Spot on.
"I was young, I was pretty and I was more of a publicity thing for them."
Tom Hartley and I know just how you feel.


Deep-cover council chief
IF nothing else, you have to give Ms McGuire some credit for her ingenuity in reinventing herself as a not insignificant Conservative Party local government figure even though she was (according to her own publicity) under sentence of death from the IRA.
"As disguises go," David Sharrock wrote in The Times of London, "it must rank as one of the most improbable.
"Not even the finest brains among the Provisional IRA, told to hunt down traitors, could have guessed that their quarry would go undercover and construct a new life as a Tory politician. In Croydon."
Even as Croydon Council's education chief she managed to stay under republican radar.
If she'd fled to London's more upmarket suburbs, like Seán 'Lunchtime O'Booze' O'Callaghan, though – to freeload off the Tory Party cocktail circuit in between picking up strange men in pubs and taking them back to his patron Ruth Dudley Edwards's pad where they beat him up and robbed the place – then Ms Maguire would have been so much easier to find... if anyone was bothered.
Would she have been that hard to find?

An Phoblacht Magazine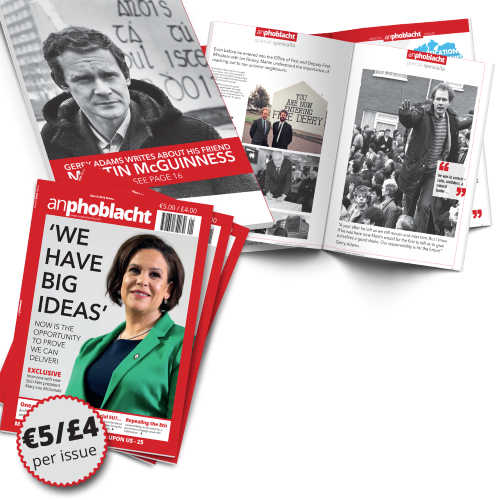 AN PHOBLACHT MAGAZINE:
The first edition of this new magazine will feature a 10 page special on the life and legacy of our leader Martin McGuinness to mark the first anniversary of his untimely passing.
It will include a personal reminiscence by Gerry Adams and contributions from the McGuinness family.
There will also be an exclusive interview with our new Uachtarán Mary Lou McDonald.
test