11 December 2008 Edition
Another View by Eoin Ó Broin
Who needs public services?
SO, finally, we have discovered who is to blame for the present recession. Not the bankers or financial speculators. Not the property developers. Not even 10 years of low tax, right-wing government. No, the blame for the fiscal and economic crisis lies with the 350,000 public sector workers. Yep, that's right. Our primary school teachers, nurses, gardaí, doctors and street cleaners have all got us into this mess.
The problem is that there are just too many of them. Apparently they think they are entitled to job security, decent pay and a living pension once they retire. Worse than that, they actually think that the services they provide – education, health, sanitation and security – are somehow vital to the life of the state and should continue to be provided despite the recession.
Luckily we have a lot of very smart people who are willing to explain to us the error of our ways. Indeed, we owe an enormous debt of gratitude to the combined intellectual genius of both Fine Gael and the business chiefs at IBEC for outlining the unsustainable nature of our public services.
So successful were these two groups in bringing these matters to our attention (ably assisted by a chorus of economists and newspaper columnists) that the Government was compelled last week to establish a Special Group on Public Service Numbers and Expenditure Programmes.
Thankfully, the group is to be chaired by a man who understands better than most the problem with our public services: UCD economist Colum McCarthy. His job is to head the team of experts that will examine all Government departments and state agencies and recommend reductions in expenditure.
The Government hopes that these intelligent people will identify so many savings that we can eliminate the Budget deficit by 2011.
So, Colm, will it be the nurses or primary school teachers? Or maybe the street cleaners? What about the folks who run our water treatment plants or waste management services? Surely we could do with a few less gardaí on our streets.
Of course, cuts to education will undermine efforts to develop that knowledge economy that everyone keeps talking about, but then we were never really serious about that, were we? And cuts to health will drive up the cost of private insurance and with it our cost base, but sure who needs competitiveness anyhow? And don't worry about all those public utilities run by our local authorities as there are plenty of private-sector companies who will step into the breach, just like those nice people who run the sewage plant in Ringsend. And as for local community services... If people just went out less after dark then we wouldn't need all those gardaí, youth services, or street lights.
You see, our problem is that we have just got too used to the good life. We have become far too grand. We actually believe that by paying taxes we should get something in return.
Oh, wait a minute, we don't pay taxes, well not that much anyhow. So maybe we don't deserve those public services after all.

An Phoblacht Magazine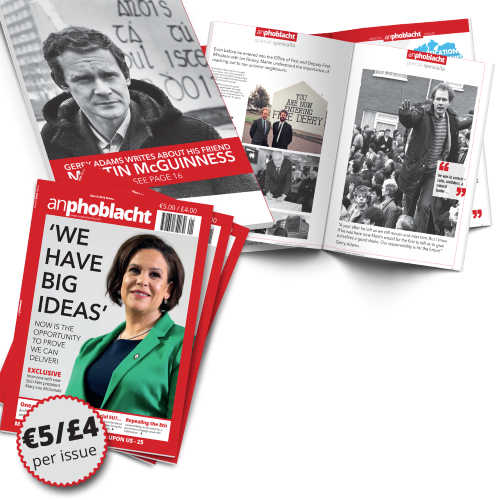 AN PHOBLACHT MAGAZINE:
The first edition of this new magazine will feature a 10 page special on the life and legacy of our leader Martin McGuinness to mark the first anniversary of his untimely passing.
It will include a personal reminiscence by Gerry Adams and contributions from the McGuinness family.
There will also be an exclusive interview with our new Uachtarán Mary Lou McDonald.
test