11 December 2008 Edition
The Mitchel McLaughlin Column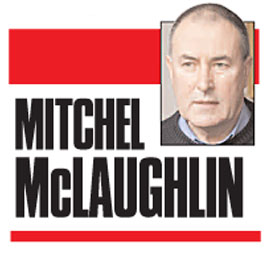 An achievable vision
EX-TAOISEACH Bertie Ahern recently issued a statement that just six months earlier would have commanded widespread news coverage and generated a national debate.
He stressed that the unification of Ireland remains "an imperative" and not "an empty aspiration".  He went further, saying: "I believe that the sooner we engage in the process of addressing Irish unity, in all its complexities, with all of its challenges, and the many opportunities it will present, the sooner the reality will occur."
If only he had given that leadership when he occupied high office! However, the opportunity is still available if there is the political will in Dublin, within the political leadership in the North and with the assistance of influential members of the Irish Diaspora.
The first imperative is that the vision is presented to unionism in a manner that is non-threatening and persuasive and which will encourage an open-minded consideration of the benefits for all who live on the island of Ireland.
I know that the present economic climate may not seem to be the most conducive atmosphere in which to attempt to convince unionists of their future in a united Ireland, but adversity so often presents the greatest opportunities.
The facts are that, in the current circumstances, we are all challenged to manage the crisis and to plan to rebuild the economy. The acceptance by most economists and many influential business people that the island should move towards even greater economic integration presents us with a golden opportunity.
We must demonstrate tactical vision by developing tangible and achievable strategies in areas that would be mutually beneficial.
The proponents of Irish unity, economic and political (because one could not be sustained without the other), need to collaborate now in developing co-ordinated, integrated strategies beginning with infrastructural projects as the most obvious. For instance, it can be demonstrated that all-Ireland planning for future road and rail development, sewerage, waste management and environmental protection would bring tangible benefits to all regions.
Furthermore, there is no logical economic argument that demonstrates that the pooling of resources in areas of health, education, agriculture, job creation, and lobbying for direct inward investment on an all-Ireland basis would not result in almost immediate dividends, not only providing better value for money but assisting the island's economic recovery.
Although in drastic decline at the moment, house building must recover to meet demand, and when it does it will require skills and resources.  Now is the time to bring forward co-ordinated training programmes that address the relevant skills base deficits and provide hope, ambition and confidence for our young adults at this time of economic crisis.
Political integration is a natural progression.
Bertie Ahern failed to give the necessary leadership when in a position to do so. Will his successors in Leinster House show more resolve when considering the path to the future?

An Phoblacht Magazine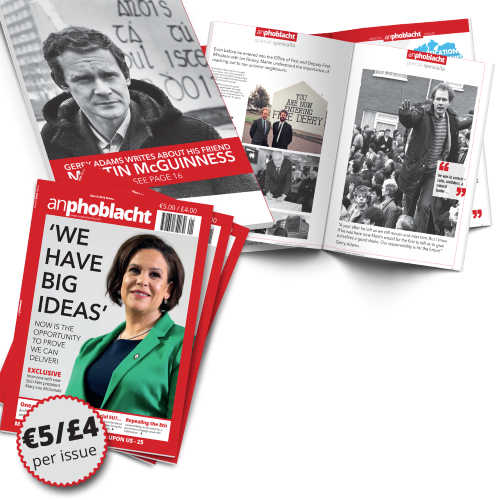 AN PHOBLACHT MAGAZINE:
The first edition of this new magazine will feature a 10 page special on the life and legacy of our leader Martin McGuinness to mark the first anniversary of his untimely passing.
It will include a personal reminiscence by Gerry Adams and contributions from the McGuinness family.
There will also be an exclusive interview with our new Uachtarán Mary Lou McDonald.
test