11 December 2008 Edition
Robust response needed to murderous thugs
THE brutal murder of Aidan Kane in Dublin's East Wall area at the weekend was an outrageous crime against the community.
For several months, East Wall residents have been crying out for action to be taken and plans to be put in place to bring a halt to increased levels of anti-social and violent behaviour perpetrated by a tiny minority of young people.
Over 200 people recently attended a meeting in the area to express their fear and anger over the failure of the authorities to deal with this issue.
That the community should have to wait for such a violent and tragic response from a group of thugs before the authorities sat up and took notice is unacceptable.
A robust response to the activity of these murderous thugs is essential so that ordinary decent people can live their lives in peace and without fear.
Increased Garda patrols and the strategic use of CCTV are badly needed in various areas of Dublin and elsewhere to combat street violence, anti-social behaviour and general thuggery.
However, the fact that some youngsters – even teenagers – in Dublin are carrying lethal weapons and have now killed an entirely innocent man is an alarming development.
Speaking in the Dáil about the killing of Aidan Kane, Sinn Féin Justice spokesperson Aengus Ó Snodaigh TD called for legislation to be introduced to tighten gun control laws in the 26 Counties. The Dublin TD revealed that over 1,200 legally-held firearms have fallen into the hands of criminals in the past five years.
Gun crime throughout Ireland is inextricably linked to the drugs trade so there must also be a tightening of security at ports as huge amounts of firearms continue to enter the country alongside vast amounts of drugs.
A shocking fact is that the state has just one X-ray machine working to detect illegal drugs and weapons entering the state through the ports in trucks and containers. Just one! This machine is moved around form port to port to meet demand but, judging from the amount of illegal drugs and guns flooding the state, it is struggling to keep up.
A tough response from Government to the increasing level of gun crime is required. The murder of Aidan O'Kane must serve as an eye-opener for the Government. Action is now needed to challenge this crisis on our streets.
An Phoblacht Magazine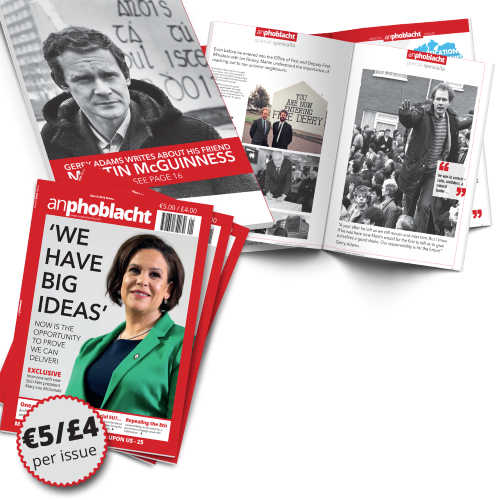 AN PHOBLACHT MAGAZINE:
The first edition of this new magazine will feature a 10 page special on the life and legacy of our leader Martin McGuinness to mark the first anniversary of his untimely passing.
It will include a personal reminiscence by Gerry Adams and contributions from the McGuinness family.
There will also be an exclusive interview with our new Uachtarán Mary Lou McDonald.
test