13 November 2008 Edition
Power generator closes but toxic waste remains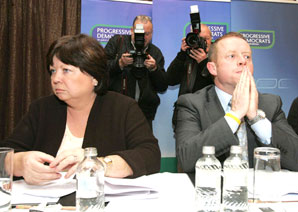 BY MÍCHEÁL Mac DONNCHA
FOR YEARS it poured poison into the Irish atmosphere. This blight on the landscape was widely reviled in Ireland and loved by British governments but all demands to get rid of it were spurned because it was heavily relied upon for power. No, I don't mean Sellafield  – I'm referring to the Progressive Democrats, who finally put themselves and the rest of us out of our misery and wound up the party in Mullingar last weekend. It was their most positive contribution to Irish politics in two decades.
The long death of the PDs began at the RDS count centre in Dublin after last year's general election. Outgoing Justice Minister and Tánaiste Michael McDowell lost his seat in Dublin South-East and stormed out of the count centre, announcing that he was leaving politics.
While most of the country rejoiced, the PDs were devastated as McDowell arrogantly abandoned them without a word to any of his former Oireachtas colleagues in the wake of their worst election performance. He had been leader for less than a year.
The PDs were reduced to two TDs (Mary Harney and Noel Grealish) yet they were included by Bertie Ahern in his Coalition with the Greens and Harney remained Health Minister. When Grealish signalled his intention to abandon the PDs it was only a matter of time before the life-support machine was switched off. That task was left to the last leader, Ciarán 'The Obscure' Cannon. The diminutive senator actually seemed to believe he had been elevated to great things when he took over in April but his first act of leadership was to tell the members that he saw no future for the party.
JFK AND THE POPE
It was a long way from the election of 1987 when the PDs won 14 seats and 12 per cent of the vote. They rode high on a wave of media hype which portrayed them as a radical new beginning in Irish politics. This was typified by a Galway county councillor who described PD founder Des O'Malley as "a combination of John F. Kennedy, Martin Luther King and Pope John Paul"!
The rabidly anti-republican Des O'Malley was the former Justice Minister who introduced repressive legislation and increased collaboration with Britain in the early 1970s. He was also the minister who wanted to site a nuclear power plant in County Wexford. An arch-enemy of Charlie Haughey, O'Malley was expelled from Fianna Fáil in 1985. He linked up with Mary Harney who had refused to support Haughey in his opposition to the Hillsborough Agreement.
The combination of anti-republicanism, Thatcherite economics and mild liberalism on issues such as divorce and contraception was appealing to a section of middle-class Ireland. The PDs' task was made easier by the corruption and political cynicism of Haughey. He led Fianna Fáil in opposition to the divorce referendum in 1986 with his Justice spokesperson Michael Woods describing it as "a constitutional Frankenstein". The PDs were also helped by the unpopularity of the Fine Gael/Labour government which collapsed in February 1987. After their initial success with 14 seats in 1987, the PDs slumped to six in 1989, back to 10 in 1992, went down to four in 1997, and then up to eight in 2002 before meltdown in 2008.
KEEPING FIANNA FÁIL IN POWER
With all their ups and downs the PDs remained in government for most of that time, keeping Fianna Fáil in power and taking votes from Fine Gael. They attracted careerists such as Michael McDowell and Tom Parlon, the former IFA leader who went around the three right-wing parties seeking the best deal as a Dáil candidate. He became a PD junior minister, leap-frogging angry Fianna Fáil backbenchers. When he lost his seat he became front-man for the Construction Industry Federation.
McDowell defined the politics of the PDs. He opposed the Peace Process at its inception and summed up PD philosophy when, as Justice Minister, he said that inequality was necessary for the economy.
The demise of the PDs clears more political ground on the right for Fine Gael to work on. It will not alter Dáil arithmetic but it removes a crutch that has helped return Fianna Fáil to power in successive general elections. That will have important implications for future elections and government formations.