6 November 2008 Edition
More than a game By Gael Gan Náire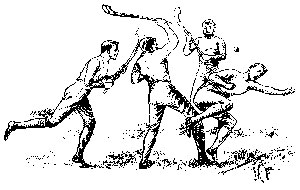 A firm grasp of your principles
APPARENTLY his nibs is depressed after the 'county final'. Lordy. Which county final would that be now? The county final for acting the blackguard, or bar billiards, or darts or whatever the Jackeen excels at and, by God, it is not hurling. I will put my bottom dollar on that.
I have seen them at it. You would be better off giving them lads hatchets or slash hooks instead of a good firm stick of Irish ash. The ball is an after-thought to them jackanapes who would think no more about taking the head clean off your shoulders than they would about turning up at your house in the early hours of the morning with parcels of stout to worry the sister, the nurse. And sing silly oul songs about lads selling sheeps' private parts on the Carlisle Bridge.
They were never any good to the country and they never will be. County final my foot.


AND 'tis a pity to see the carry-on of the Cork men. The blood and bandages is a proud badge of honour but it is being dragged through the mud. And there is a Jackeen behind it all, mark my words, with his union and his hair gel. Get away out of that.
There was a time when a man would have given the eyes out of his head to play for his county – and indeed often did.
I mind one time we were hurling below in a county semi-final – and it was not for Texas Hold 'Em or any of that muck I will tell you now – and didn't one of our lads have the ear cleaved off him in a fair tackle by one of the Town men.
Did he roll around and cry like some popinjay from Chelsea? He did not. Did he call for the stretcher? Not that either. His own mother removed the gut from one of the sliothars on the sideline and sewed the damn thing back onto the side of his head. Maybe not in quite the same spot it had been before but it did the trick. And back with him into the Gap of Danger.
Now that is the sort of pride and manhood that is missing in this country at the present time. Them Cork boys ought to take a long hard look at themselves and ask themselves which do they want: to wear the jersey that was worn by Christy Ring and the Fox Collins or to go down in the history books as jibbers... as bullies for some crowd of hooks and hop-off-my-thumbs that only want to sell bottles of minerals and would have bloody croquet with the ball thrown in by Prince Charles on his horse in Croke Park, given half a chance. And the whole lot of it cooked up by that Jackeen with his spiky hair and his bad shirts. To hell with that!


WHERE are the men – and women too, come to that – with a firm grasp of national ideals and principles? Where are they? Stuck beyond in the Singing Lounge and slouched, slack-jawed like imbeciles over the pool table or their eyes glued to some nonsense from that bloody dump across the water.
I was always a fair man so I have to say that the Jackeen is right about one thing and that is the so-called Compromise Rules. But then even a stopped clock is right every once in a while (twice every day, now that I come to think about it, which is a lot more than your man).
Was there ever such an unsightly mess lads now, in all fairness? Cards on the table, I've never been a great admirer of our Antipodean friends since I was a ganger across in Earls Court years back and they tried to make a skit out of me. 
I am, however, proud to be a member of a committee that has been set up by some distinguished gentlemen (including a well-known actor) to raise a memorial to one of the great heroes of those parts: the Gallant Ned Kelly. Of Tipperary stock, of course.
The plan is to erect a statue to that man in Dublin in a place of prominence and I have to say I rather that it is him than me. Them fellas would rob the eyes out of your head – even if you did happen to be wearing an iron helmet at the time.

An Phoblacht Magazine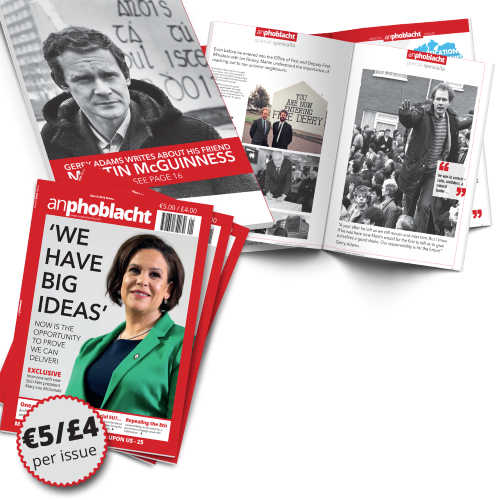 AN PHOBLACHT MAGAZINE:
The first edition of this new magazine will feature a 10 page special on the life and legacy of our leader Martin McGuinness to mark the first anniversary of his untimely passing.
It will include a personal reminiscence by Gerry Adams and contributions from the McGuinness family.
There will also be an exclusive interview with our new Uachtarán Mary Lou McDonald.
test