6 November 2008 Edition
The Fifth Column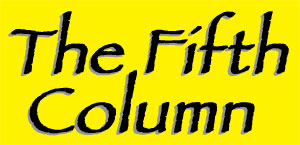 X Factor's Big Brother censors
THE controversy over County Derry X Factor hopeful Eoghan Quigg (above), being dragooned into singing on the X Factor finalists' charity single for British Army casualties from Iraq and Afghanistan has highlighted political interference of another sort by ITV and X Factor bosses.
The Dungiven teen star – "baby-faced Eoghan", as he has been dubbed – really had no way out of doing the single and even opponents of Britain's imperialist occupations appreciate the predicament that the 16-year-old found himself in.
Eoghan's father, Chris, says:
"I don't agree with Iraq but that's nothing to do with it. This is for people who have lost limbs and lost their lives, whatever they were fighting for."
'Politicisation' of the light entertainment show (i.e. any reservations by republicans) is vehemently denounced by John Kay of The Sun and X Factor PR people but they readily accept political vetting of what Eoghan Quigg's family wears on TV!
The family was shown sporting T-shirts from the GAA club that Eoghan plays hurling for: Kevin Lynch GAC, named after 1981 H-Block Hunger Strike martyr Kevin Lynch.
ITV has ordered the family not to wear the shirts again.
We apologise for ITV's political interference with your viewing. Normal (hypocritical) service has been resumed.


RIR/UVF privates on parade
RTÉ and various other broadcast media were ever so keen to parade a Limerick-born Royal Irish Regiment officer in coverage of the British Army war wagon as it trundled through Belfast on Sunday.
None of them interviewed the north Belfast RIR soldier in Afghanistan who had a lot to say on his internet network site ahead of the parade but that would have blasted a bloody big hole in the Limerick RIR man's camouflage about how chummy all the Irish are in the RIR.
The north Belfast RIR soldier and other troops posed for photos with weapons drawn in front of a loyalist flag emblazoned with the words "No Surrender". (See An Phoblacht, 30 October, page 19).
The photos were accompanied by "messages urging support for Sunday's parade" as well as other deeply inflammatory material, including:

UVF banners;
Pictures of masked loyalist gunmen;
The slogan "Kill All Taigs";
The words "ha, ha ha" over a picture of PSNI officers being petrol-bombed.
Maybe the Irish Times will give the media-hungry RIR soldier a weekly column because you can bet the Royal Military Police won't arrest him.


Soldiering Bristol fashion
ONE old soldier and veteran of war service in Ireland who wasn't in Belfast on Sunday was Kim Swain-Forgan of Bristol.
Swain-Forgan (45), a bus inspector, is now serving a six-months jail sentence for a racist attack on a young Asian bus passenger in which he punched and kicked his victim as he rained racist and homophobic abuse on him.
Swain-Forgan's defence solicitor said that his client had served four tours of duty in Ireland and was in the Malvinas/Falklands War. He had broken down during questioning by police after his arrest last December. When a GP examined him, it was found that he is suffering from post-traumatic stress disorder – undiagnosed for 25 years.
"He was exposed to extremely unpleasant things," his solicitor said. As well as doing some unpleasant things too, obviously.


Fascist retreat
CONOR LENIHAN (right) – the man Fianna Fáil thought the most suitable TD to be Minister of State for Integration even after his "Stick to the kebabs" jibe in the Dáil about the rights of Turkish workers in Ireland – accused Baby Blueshirt Leo Varadkar in the Dáil last week of being a "fascist" for mirroring policies of the neo-Nazi British National Party.
Lenihan later apologised – sort of.
"I obviously do not think that Leo Varadkar is a fascist," Conor conceded, "although he advocates policies that are close to the BNP."


Another split
THERE'S been an interesting ideological split in one of the micro republican groups in east Tyrone that brings home some of the contradictions in their philosophy.
A cumann in the group led by Ruairí Ó Brádaigh (above) named itself after local IRA Volunteer Jim Lynagh. Jim was one of eight IRA Volunteers killed in an ambush by the SAS at Loughgall in 1987.
The trouble was, head office in Dublin pointed out, this was a year after Ó Brádaigh's group walked out of the 1986 Sinn Féin Ard Fheis and walked out on the IRA. Ruairí Ó Brádaigh's small band of followers left; Jim Lynagh and his comrades stayed.
Last week, the order came down from Ruairí Ó Brádaigh's Dublin HQ: drop Jim Lynagh's name or you're out. Despite the obvious conflict, the name stayed and now Ruairí Ó Brádaigh's east Tyrone organisation has walked out on him.
What was that about the first item on the agenda being a split?


BBC hanging offence
WHILE the BBC was in upheaval over the Russell Brand/Jonathan Ross lewd phone call scandal, the ever-irreverent Have I Got News for You sailed too close to the wind last week for one person who has reported the programme to hate crimes police for alleged homophobia.
The offence came during an item on a record attempt in Iran to make the world's biggest ostrich sandwich.
Announcing that the big bird butty bid had failed, host Alexander Armstrong (above) quipped:
"On the plus side, they do still hold the record for hanging homosexuals."
Gay rights champion Peter Tatchell doesn't think it's a hanging offence for Auntie.
"I interpreted it as an anti-Iran joke," the founder of direct action group Outrage! says, "exposing and mocking Iran's murderous, homophobic regime."

An Phoblacht Magazine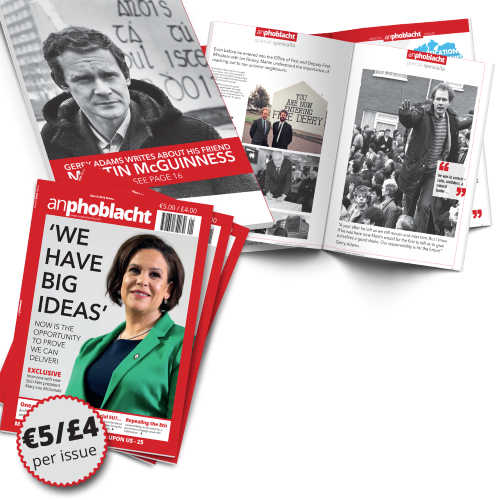 AN PHOBLACHT MAGAZINE:
The first edition of this new magazine will feature a 10 page special on the life and legacy of our leader Martin McGuinness to mark the first anniversary of his untimely passing.
It will include a personal reminiscence by Gerry Adams and contributions from the McGuinness family.
There will also be an exclusive interview with our new Uachtarán Mary Lou McDonald.
test