6 November 2008 Edition
Can Sinn Féin score a fantastic five?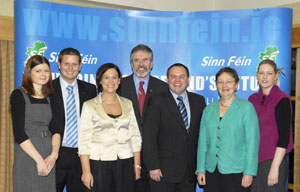 EU 2009 – All of Ireland goes to the polls
THE WHOLE of Ireland goes to the polls next June, as will the 26 other EU member states, in what will be the first post-Lisbon electoral test across the continent. Sinn Féin will be the only party to contest all five EU constituencies on the island and last weekend the final candidate in the Sinn Féin team, Donegal Councillor Pádraig Mac Lochlainn, was selected.
This week, An Phoblacht's ROBBIE SMYTH profiles the six Sinn Féin candidates, while Sinn Féin National Director of Elections Brian Tumilty gives his first interview on the 32-county push for seats.
We also look at the new constituency boundaries – and, yes, they are confusing. Finally, we have a quick look at past results as Sinn Féin gears up for its greatest electoral challenge yet.
 AN PHOBLACHT spoke to Brian Tumilty about the broad politics of the EU election and the party's strategy. The ambitious target is to elect an MEP in each of the EU constituencies.
In 2004, many pundits massively under-estimated the strength and depth of the Sinn Féin challenge, particularly in the North-West constituency where Pearse Doherty was narrowly beaten to the last seat having run second on the first count. In the South and East constituencies, the party performed well and an impressive result across the island was capped by the two new EU seats in Dublin and the Six Counties.
Tumilty, who has attended the recent EU selection conventions and preparation meetings across the island, said "the mood at the launches was buoyant" and that huge crowds had attended the candidate launches with 350 at the South constituency convention where Kerry Councillor Toireasa Ferris was selected and over 500 turning out for the selection of Donegal Councillor Pádraig Mac Lochlainn last weekend in Sligo.
The EU elections "gives Sinn Féin an opportunity to canvass across the 32 Counties and be the only party to have an all-Ireland dimension to poll", said Tumilty.
Turning to the broad politics of the election, he said that with Sinn Féin as "the only party opposing the Lisbon Treaty and with all of the 26-County constituencies recording 'No' votes to Lisbon, there is certainly potential to grow the Sinn Féin vote".
Tumilty believes that the election campaign will be dominated by a mix of broad EU and regional niche issues such as infrastructure and economic development problems in the North-West and South, the need to rebuild the rural economy across the island, as well as the broader contexts of the wider economic downturn, health and education services, alongside the cutbacks and funding crisis gripping 26-County politics.

THE NEW EU CONSTITUENCY BOUNDARIES
Ongoing EU enlargement has meant a progressive loss of MEPs being elected out of the 26 Counties. What was once 15 MEPs will, in 2009, be down to 12, spread across four three-seater constituencies.
In its submission to the Boundary Commission, Sinn Féin had suggested both a more imaginative approach to the boundaries, including one all-Ireland EU constituency, alongside more practical solutions to the loss of another MEP.
Sinn Féin's proposals included three four-seat constituencies, including a four-seat Dublin and North-East constituency that would have encompassed Meath and Louth, a new South constituency that would include all of Munster except Clare and the south Leinster counties of Wexford, Wicklow, Carlow and Kilkenny. North and West would combine all the Connacht counties with Clare, Donegal, Cavan, Monaghan and the remaining Leinster counties.
Instead, Dublin's boundaries remain unchanged while the constituency loses a seat. South remains unchanged while the East loses two counties, Longford and Westmeath, to the now geographically enlarged North-West constituency. The new boundaries have created the ridiculous scenario where what is called North-West as an EU constituency has counties from every province in Ireland within its boundaries.


THE EU SINN FÉIN VOTE, 1999-2004
Dublin
This constituency comprises all the Dublin Leinster House constituencies and had (in the 2006 Census) a population of 395,725 people per MEP.
1999    First preferences: 18,633  % share: 6.64
2004    First preferences: 60,395  % share: 14.32

East (was Leinster)
This constituency comprises all of the counties of Leinster except Longford, Westmeath and Dublin. It will have a population of 331,403 people per MEP.
1999    First preferences: 20,015  % share: 5.85
2004    First preferences: 39,356  % share: 8.68

North-West (was Connacht/Ulster in 1999)
This constituency comprises all of Connacht as well as Cavan, Clare, Donegal, Longford, Monaghan and Westmeath. It will have a population of 332,024 people per MEP.
1999    First preferences: 20,457  % share: 6.39
2004    First preferences: 65,321  % share: 15.50

South (Munster in 1999)
This constituency comprises all of Munster except Clare. It will have a population of 354,130 people per MEP.
1999    First preferences: 29,060  % share: 6.48
2004    First preferences: 32,643  % share: 6.74

Six Counties
This constituency is made up of Armagh, Antrim, Derry, Down, Fermanagh and Tyrone. It will have a population of 570,100 people per MEP, using the 2004 Census figures.
1999    First preferences: 117,643   % share: 17.33
2004    First preferences: 144,541  % share: 26.31


SINN FÉIN'S 2009 EU ELECTION CANDIDATES
Mary Lou McDonald MEP (Dublin)

Mary Lou's studied calmness and clear focus during this year's Lisbon referendum campaign showed the rest of Ireland what republicans had known for some time: that McDonald had a political depth and quality as a political leader unmatched in other political parties.
She went toe-to-toe with the supposed ministerial heavyweights in Fianna Fáil as well as Enda Kenny and assorted Labour Party spokespersons and whipped them all.
Mary Lou McDonald is a member of the Sinn Féin Ard Chomhairle and is the party's national chairperson.
McDonald previously worked as a consultant for the Irish Productivity Centre, as a researcher for the Institute of European Affairs, and as a trainer in the trade union-sponsored Partnership Unit of the Educational and Training Services Trust. She has worked for the party in co-ordinating the work of Sinn Féin elected representatives across the island.
She is a member of the Employment and Social Affairs Committee in the European Parliament and a substitute of the Civil Liberties Committee. The Dublin MEP was shortlisted last year for an 'MEP of the Year Award' in the category of Employment and Workers' Rights, recognising her work and commitment in this area.
Mary Lou McDonald led Sinn Féin's successful campaign against the Lisbon Treaty earlier this year. The Dublin MEP regularly attends the Oireachtas Joint Committee on European Affairs. This attendance was and continues to be critical in the context that Sinn Féin is the only parliamentary party to oppose the treaty.  Tackling the post-Lisbon debate, promoting workers' rights and working with Ireland's EU partners to stabilise the Union's shared economic future all remain priorities for the MEP.

Kathleen Funchion (East)

At 27, Kathleen Funchion from Callan, County Kilkenny, is the youngest of the Sinn Féin candidates. She was previously Sinn Féin's candidate for Carlow/Kilkenny in the 2007 general election.
In an area where much is needed to be done to build the republican voice, Funchion has been a commanding presence in recent years as a party representative and the face of Sinn Féin locally while also being a diligent worker within the party, revitalising local cumainn and the whole constituency structure.
Kathleen still found time to give birth to a baby boy, Emmet, and get married recently to Waterford Sinn Féin Councillor David Cullinane, and she now takes on a broader challenge leading the Sinn Féin EU campaign across the southern counties of what is now the East constituency.
Kathleen has a first-class honours degree in Behavioural Science with a concentration in Sociology from the American College, Dublin.
She was the equality officer for the Leinster area for the party, is now chairperson for South Leinster and is also in full-time employment for SIPTU as an organiser in the community sector.
Kathleen has also been involved with human rights work and was part of a human rights delegation that travelled to Colombia in June 2005.

Councillor Tomás Sharkey (East)

Sinn Féin ard fheiseanna of recent years have been much the better for the presence of Tomás Sharkey, who has brought vibrancy, laughter and much applause from delegates appreciative of the quick wit and cutting political commentary from this Dundalk councillor.
Tomás Sharkey is also a founder member of Rogers/Martin Sinn Féin Cumann in North Louth. A secondary school teacher, Tomás works with the Teacher Education Section of the Department of Education and Science as a regional development officer offering continuing professional development to Irish teachers.
Sharkey's Louth County Council work includes membership of County Louth Vocational Educational Committee, Dundalk Youthreach Board of Management, chair of Tara Education Centre Board of Management, Regional Health Forum HSE Dublin/North East, vice-chair of the Acute Hospitals Committee of the Regional Health Forum (HSE), member of Dundalk Joint Burial Board, and member of Corporate SPC, Louth County Council.
Tomás is also national secretary of Comhar na Muinteoirí Gaeilge and presents the Irish-language radio magazine programme, Beo, on Dundalk FM 100.

Councillor Pádraig Mac Lochlainn (North-West)

Having been the national director of Sinn Féin's successful campaign against the Lisbon Treaty in 2008, it was not a surprise that Pádraig Mac Lochlainn would emerge as the Sinn Féin candidate for North-West.
Mac Lochlainn has been the Sinn Féin candidate for Donegal North-East in Dáil elections on two occasions. In 2002, he received 10% (3,611 votes) and in the 2007 general election he received 17.5% (6,733 votes), just missing out on a Dáil seat.
In the 2004 local elections, he topped the poll in the Inishowen electoral area of Donegal County Council and he was also elected to Buncrana Town Council. Pádraig was co-opted on to Buncrana Town Council in January 2002 to replace Jim Ferry, who had retired. He served as Mayor of Buncrana from June 2005 to June 2006.
He has served on the Sinn Féin Ard Chomhairle and continues to represent the party at national and international level on a regular basis.
He was appointed to the board of InterTradeIreland, the trade and business development body, in December 2007. InterTradeIreland is one of six all-Ireland bodies established under the Good Friday Agreement.
Incensed by the high levels of unemployment in his native county, he acted as the Donegal spokesperson for the Irish National Organisation of the Unemployed (INOU) from 1997 to 2001. He also served on the INOU National Executive from 1997 until 2000 as well as representing the organisation on the National Rural Development Forum.
At local level, he was a community director on the Inishowen Partnership Board for five years, from 1996 to 2001.
His work as a community activist and political representative has led him to speak at conferences across Europe on the issues of unemployment, regional neglect and rural poverty.

Bairbre de Brún MEP (Six Counties)

Bairbre de Brún is a member of the Sinn Féin's Ard Chomhairle and MEP for the Six Counties. She was elected as an Assembly member for West Belfast. Born in Dublin, she lives in the Andersonstown area of Belfast. She is a teacher by profession and taught in the growing sector of Irish-medium education.
Bairbre began her political career as a member of the National H-Block/Armagh Committee in the late 1970s and early 1980s. She worked in the Women's Department and was head of both the Cultural and International departments.
She is a fluent Irish speaker and an expert in human rights and equality issues. She is a member of the Sinn Féin negotiating team and has travelled extensively both in Ireland and abroad to promote the Peace Process. Elected as a Sinn Féin Assembly member for West Belfast in 1998, Bairbre was nominated by the party to the newly-formed Executive as Minister for Health, Social Services and Public Safety.
Bairbre is a member of the Regional Policy Committee in the European Parliament and a substitute member of the Environment Committee.

Councillor Toireasa Ferris (South)

Speaking at the EU election convention that selected her as Sinn Féin candidate for South, Toireasa Ferris cited "democracy and Ireland's place in the EU, neutrality and militarisation, workers' rights and public services" as key EU-related issues in the coming poll as are the questions of "tax sovereignty, nuclear power and the developing world".
Toireasa Ferris, aged 28, is a law graduate who holds a master's degree from Queen's University, Belfast. She won seats on Kerry County Council and on Tralee Town Council in the 2004 local elections and has been Mayor of Kerry County Council between 2005 and 2006.
Toireasa's local council work has involved membership of Kerry County Council's Housing SPC, and the boards of Fenit Harbour, Kerry Education Service, as well as being a council representative on the HSE South Regional forum, the Partnership 3 board, Kerry County Enterprise Board and the Kerry County Development Board. She is also involved in local playground and Tidy Towns committees and other community organisations.
Before her election to Kerry County Council, Toireasa worked with an international human rights law firm in Chicago in 2002. While she was in Mexico for eight months in 2001 on a work experience programme she did voluntary work for a workers' rights group. Currently Toireasa is also teaching as a law tutor part-time in Tralee Community College. She and partner, Paddy, have a seven-month-old baby girl, Liadain.