6 November 2008 Edition
Aontachtóirí ag crosbóthar agus / and An anti-people Government
Aontachtóirí ag crosbóthar
Tá aontachtóirí na Sé Chontae ag crosbóthar arís agus is le ceannaire an DUP Peter Robinson an rogha. Cén treo? Ar aghaidh chun Comhaontú Aoine an Chéasta a chur i bhfeidhm agus chun oibriú taobh le taobh le airí Shinn Féin? Nó ar chúl chun teip  polaitiúil eile agus aontachtóirí ag súil gur féidir leo a bheith i gceannas ag Stormont arís mar a bhí siad ar feadh leathchéad bliain?
Is cinnte gur féidir leo seasamh siar ach má dhéanann siad sin is ar an taobhlíne a bheidh siad ina seasamh. Níl bealach ar bith ar ais chun an sean-réim aontachtach agus tá a fhios sin ag Robinson. Tá dualgas ar Robinson anois an fhíric sin a mhíniú go soiléir don bpobal aontachtach. Tá dualgas air a bheith ina cheannaire agus gan bheith ag ligint air go bhfuil fiúntas ar bith dá bpobal sa seicteachas a bhí le feiceáil ar sráideanna Bhéal Feirste ag an deireadh seachtaine seo caite.


An anti-people Government
The Fianna Fáil/PD/Green government is clearly exposed this week as an anti-people government on two fronts. Its attacks on public services in health and education and social welfare are targeting the most vulnerable. Having created the current economic recession they are now trying to make the people pay for the disastrous policies of successive Fianna Fáil-led governments. But people are not taking this lying down. The upsurge of public protest is a sign of hope. It must be sustained and it must also be focused in a way that demands real policy change.
The second anti-people front being fought by the Government is on the Lisbon Treaty. Fianna Fáil and their former EU-critical partners in the Green Party are preparing to defy the democratic decision of the electorate and put the rejected Lisbon Treaty to a referendum again in 2009. Such a move would of course be a travesty of democracy even more blatant than the second Nice referendum.
A determined stand against such a second referendum can prevent the Government's attempt to nullify the will of the people in this way. They should fulfil the mandate of the electorate and tell the EU member states that the Lisbon Treaty is dead. We are not alone. The issues that led to the Irish rejection of Lisbon are of concern to people across Europe and must be acted upon – lack of accountability of EU institutions, loss of sovereignty, militarization, workers' rights and the erosion of public services.

An Phoblacht Magazine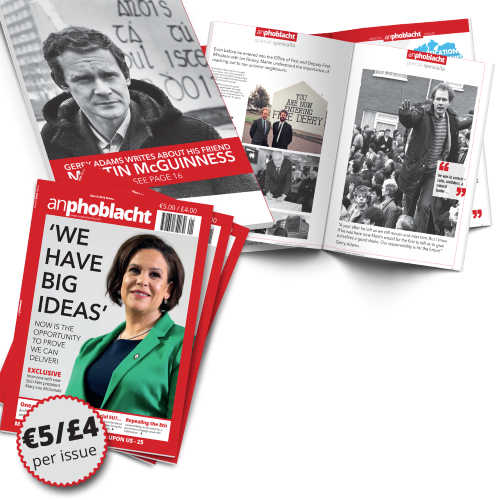 AN PHOBLACHT MAGAZINE:
The first edition of this new magazine will feature a 10 page special on the life and legacy of our leader Martin McGuinness to mark the first anniversary of his untimely passing.
It will include a personal reminiscence by Gerry Adams and contributions from the McGuinness family.
There will also be an exclusive interview with our new Uachtarán Mary Lou McDonald.
test