30 October 2008 Edition
Fifth Column
Prone position
TERRY PRONE, the peroxide queen of public relations in the South, has some colourful woman-on-woman views on US vice-presidential candidate Sarah Palin's wardrobe.
Prone – who has built her career grooming Irish Government political heads previously with Carr Communications and now The Communications Clinic – was on RTÉ Radio 1's Drivetime last Thursday looking at the race for the White House. The sharp-eyed Terry looked at the kerfuffle over the revelation that the Republican Party, in a time of economic recession, has shelled out $150,000 (€120,000/£92,000) on clothes from New York's top fashion stores to glam up the moose-hunting hockey mom who has been in the presidential race for just two months. Expenditure on clothes, shoes and hair-dos is running at $2,500 a day.
It's not the money that bothers Prone, though, it's the signals Sarah is sending out to men in her trademark outfits. Host Mary Wilson said Sarah Palin wears "a lot of red". Prone said she was afraid that someone would raise the red issue. Ms Prone would caution any of her clients to think very carefully about being seen as a lady in red and said she was reaching for her zoology text books on the big red one.
Red, she informed commuters tootling their way home, is "a sign of being ready for sex in a gorilla or any other large primate in that the female's posterior becomes a very florid shade of red. That's the thing that says I'm up for it lads, I'm in season."
You could hear sharp intakes of breath in the studio as Prone pronounced further for those slow on the uptake or laying out the tea for the family. Red, she re-emphasised, "is the colour of sex", the colour that says "I'm ready for it".
And Palin, Prone added before the discussion was swiftly moved on, is sending out "very red signals".
Maybe that's the appeal to those red-blooded rednecks in the Republican backwoods.
 

Cashing in on Obama
THE most unlikely people are trying to cash in on Barack Obama's popularity.
Hucksters of every persuasion have been using the famous face to slap on T-shirts and hats but this week Colombia's right-wing government – a firm ally of George W Bush and, you would have thought, Obama's rival, John McCain – put Barack's boat race on its lottery tickets.
A Colombia National Lottery official explained:
"We picked Obama's portrait because we're always looking for somebody people are raving about. He's ahead in the opinion polls and, right now, he's the most popular guy around here."
No danger of Brian Lenihan going on the National Lottery tickets here then.
 

Cash in Liz O'Donnell's attic
PROGRESSIVE DEMOCRATS plc hasn't officially gone out of business but already the bosses are fighting over the family jewels.
Former Minister of State at Foreign Affairs and forcibly retired deputy leader 'Luscious Liz' O'Donnell – who was given her P45 by the voters – stands accused of pocketing some of the company cash in her very chic trouser suits. Now the PDs want the cash back in their attic.
The Standards in Public Office Commission (SIPOC) has been paying back election expenses rebates to candidates, including €8,700 (£7,000) to the fragrant but fallen flower of Dublin 4. The trouble is, SIPOC made an electronic transfer of the moolah direct into Liz's private bank account and that, she insists vigorously, is where it's going to stay. The PDs – further irked at Liz's appearance at a Dublin fund-raiser for Barack Obama – may want it but they ain't gonna get it.
"It is my understanding," Liz says, "the repayment was made to candidates personally," and that's that. Those luscious lips are sealed.
"I have no further comment to make."
So stick that up your jumper, Mary Harney.
The PDs, the party that styled itself as the moral guardians of public financial probity – or their solicitors – may have more to say on the matter.
 

Quantum of cutbacks
EVEN though it curiously comes under the jurisdiction of the Department of Finance, the Irish Secret Service has had to share the economic pain of other Government agencies and the old-time spooks have had their budget for dry martinis (shaken, not stirred), speedboats and trips to Casino Royale cut from €818,000 (£650,000) to €700,000. (There'll be no marches on the Dáil from this crowd, I'll wager.)
But what does the Irish Secret Service do with all those millions, taxpayers ask. Ah, that's a secret – especially from the taxpayers.
 

Secret Squirrels
DOES John Gormley and fellow Green Party Cabinet member Eamon Ryan know what Ireland's Secret Squirrels do with taxpayers' hard-earned money?
As the Secret Service is a Government agency, surely Honest John could shed some light on what the spooks are up to. Or is it a bit like the CIA's use of Shannon Airport under a Green Party in government and it's in a case file marked 'Don't ask, don't tell.'
 

Ssssh, you know who
AND why don't we know more about what the Secret Service is up to or who runs it? After all, even though they are top targets for Osama Bin Laden and the Taliban, we know who are the chiefs of MI5 (Jonathan Evans, who succeeded the splendidly named Dame Eliza Manningham-Buller) and MI6 (John Scarlett), and even where MI5 and MI6 have their HQs in London (Thames House at Millbank, Westminster, for the Spooks of BBC fiction fame, while the James Bond types are sipping their martinis just across the River Thames at Vauxhall Cross). MI5 and MI6 even have their own websites. So what does the Irish Secret Service do?
Maybe the Green Party doesn't want to disturb the protected habitat of Ireland's Secret Squirrels.

An Phoblacht Magazine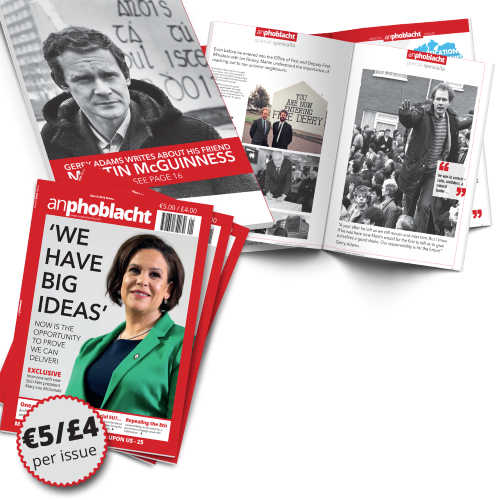 AN PHOBLACHT MAGAZINE:
The first edition of this new magazine will feature a 10 page special on the life and legacy of our leader Martin McGuinness to mark the first anniversary of his untimely passing.
It will include a personal reminiscence by Gerry Adams and contributions from the McGuinness family.
There will also be an exclusive interview with our new Uachtarán Mary Lou McDonald.
test