30 October 2008 Edition
Mitchel McLaughlin Column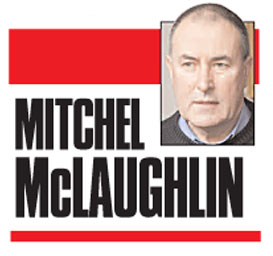 Is DUP in retreat from power-sharing?
This coming weekend the DUP will hold their first ever Annual Party Conference without Ian Paisley at the helm.  He will be present, of course, and will be applauded by the party faithful for his key role in establishing the DUP as the largest Unionist party.
 Apart from this aspect, many pundits and journalists will wish to make a comparison between the leadership styles of Peter Robinson and Ian Paisley.  Of course Peter is not Ian and there are many and obvious differences in personality and temperament between the two men.  But will this conference demonstrate a party that is moving with confidence into a shared future or a party (and its leader) in headlong retreat?
 Ian Paisley's decision to opt for power-sharing based on the Good Friday Agreement was a remarkable feat of leadership, especially as he was quite clear that this would entail a partnership with Martin McGuinness.  Ian Paisley's decision may well have contributed to his downfall as leader of both the Free Presbyterian Church and the party that he founded and led for so many years.
 Peter Robinson has often asserted that the Assembly is led by a "mandatory four-party coalition". That is a complete misrepresentation of the decision taken by Ian Paisley to lead the DUP for the first time in their history into a power-sharing Executive.
 The Assembly is not a mandatory coalition nor is it a Unionist majority rule Administration but a power-sharing arrangement based on equality and respect or parity of esteem for all political traditions in the North.
 Under the d'Hondt voting mechanism, a party may nominate to the Executive in order of their electoral strength but there is no mandatory requirement for any party to go into the Executive.  Indeed a party which is not prepared to subscribe to the mandatory power-sharing arrangements may opt to stay out of the Executive and play out their political position from the main body of the Assembly floor.
 Once the Executive has been elected the business can only be done on a basis of equality and respect for all traditions present and the consent of all present in terms of cross-community support.
 This is where the problem lies as the DUP want to operate on a majority rule basis denigrating Nationalist and Republican concerns whilst pursuing a Unionist agenda accompanied at all times by gratuitous and insulting rhetoric about issues of significant concern to the electorate that Sinn Féin represents.
 Let me be clear. Sinn Féin will not be participating in any form of majority rule whether it is the DUP model or the Mark Durkan model recently outlined in the Oxford Union
 Sinn Féin is determined that any government will always be based on equality and parity of esteem.  The DUP Conference this weekend represents an opportunity for Peter Robinson as the new DUP leader to show that he can continue in the direction mapped out by Ian Paisley when he committed the DUP to the power-sharing Executive. 

An Phoblacht Magazine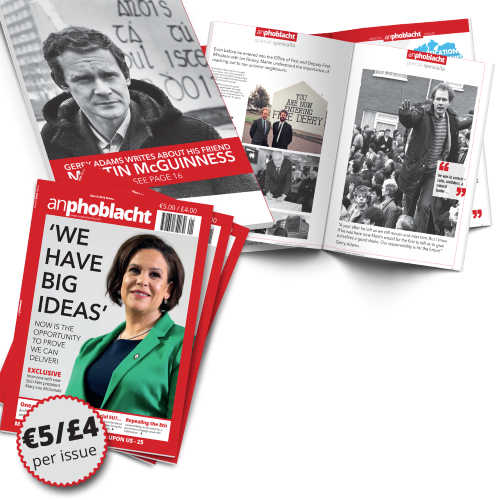 AN PHOBLACHT MAGAZINE:
The first edition of this new magazine will feature a 10 page special on the life and legacy of our leader Martin McGuinness to mark the first anniversary of his untimely passing.
It will include a personal reminiscence by Gerry Adams and contributions from the McGuinness family.
There will also be an exclusive interview with our new Uachtarán Mary Lou McDonald.
test