23 October 2008 Edition
More than a game BY MATT TREACY
THE RETURN of the execrable Compromise Rules between GAA footballers and proponents of Aussie Rules got off to a suitable note. Former Oz coach Kevin Sheedy (who was here in 2006) described Irish manager Sean Boylan as a "leprechaun" and accused him of having ranted and raved at the press conference following the last mess.
Why the GAA persists in this nonsense is beyond me and why they decided to go back on the decision made after the 2006 debacle to withdraw from the series is a mystery. The sole benefit I can see from it is that players get to travel to Australia every few years. That at least provides a nice break and a fitting reward for a hard year's work.
It is extraordinary, however, not only given the cynical crap that we witnessed the last time the Australians were here but the intensive efforts they are making to poach young Irish footballers to the Antipodes, that anyone in Croke Park thinks that apart from the holiday that there is any merit in the whole thing.
In an effort to ensure good feeling, a dinner was organised on the Irish team's arrival so that they might get to know one another and thus, presumably, be less inclined to thump the living shite out of one another. Whether that works is another matter. The impression gained from the last time was that the Aussies really couldn't care less what anyone thinks about them and they were perfectly satisfied to put on the spectacle they did in Croke Park the last time they were here.
Indeed, in contrast to the outrage and hand-wringing here, the Australian press was generally over the moon about the bating they'd given the Paddies. They don't get out much and their international sides – whether in this, cricket or rugby – tend to revel in being as obnoxious as possible and are, hence, not particularly liked in places where they tour. Which is fair enough.
I don't have an especial moral objection to thumping chaps and certainly not to robust play but there has to be some point to it and not just be a gratuitous circus-type violence not unlike televised wrestling except that you would be a lot sorer after being clothes-lined by the Aussies than 'cobra clutch slammed' by Stone Cold Steve Austin or even the Edge Heads.
So it will be interesting to see whether the sweetness and light engendered by the breaking of bread together will seep into the actual games. I suspect not. Or rather it will be conditional. If the Aussies feel that they have established a sufficient psychological hold over the Irish since the last time, based on the knowledge that they are prepared to kick butt, then they will be satisfied with a simple victory.
However, should Boylan's side get uppity and, even worse, dare to take on the Australians in the physical stakes then it could all be very unpleasant once again. For those of you sufficiently interested (and are reading this in time), the first 'Test' takes place in Perth on Friday, probably at some hour that will require a chap to be in an early-opening public house. Personally, I think I'll pass.
OF more interest was last weekend's game between a team made up of Irish hurlers and a Scottish shinty side.
The senior game took place at Nowlan Park in Kilkenny on Saturday and the Scots won narrowly. It is a mixture of the two games with the two sets of players playing with their own sticks, the Scots shinty stick resembling more an ice hockey stick.
Indeed that is where ice hockey originated, brought to Canada by Highlands emigrants. Prior to the GAA being established, Ulster hurling was also more akin to shinty than the modern game.
The compromise rules are more like Shinty and players are not allowed use their hands. The only real concession to hurling is that the ball can be hit over the bar to score a point, whereas there are only goals in shinty.
The other factor favouring the Scots was that the Irish team was predominantly comprised of players from teams like Wicklow, Leitrim, Down, Armagh and Carlow with a sprinkling of stars such as Eddie Brennan and Tommy Walsh of Kilkenny and Sean Óg Ó hAilpín of Cork.
The teams were well matched with the Highlanders clearly being the more proficient at ground hurling, a fact that would no doubt have many Old School coaches shake their heads ruefully. Indeed, the hurlers most often opted to lift and strike, as though taking a free, rather than pulling first time. Perhaps they would be better advised to take the latter option in the future.
An Phoblacht Magazine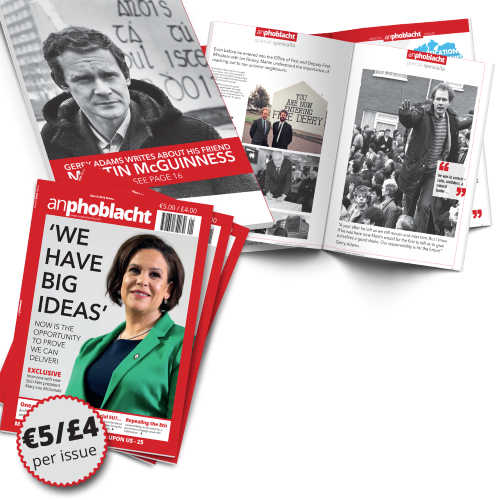 AN PHOBLACHT MAGAZINE:
The first edition of this new magazine will feature a 10 page special on the life and legacy of our leader Martin McGuinness to mark the first anniversary of his untimely passing.
It will include a personal reminiscence by Gerry Adams and contributions from the McGuinness family.
There will also be an exclusive interview with our new Uachtarán Mary Lou McDonald.
test