23 October 2008 Edition
Homes under the hammer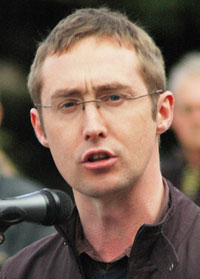 BY EOIN Ó BROIN
SPEAKING to the Dáil last week, Housing Minister Michael Finneran announced that the housing budget for 2009 would be 4 per cent less than 2008, with spending on social housing to be cut by 1.7 per cent.  
When inflation is taken into account, these figures should read 9 per cent less for housing in general and 6.6 per cent less for social housing.  
So what does this cut mean for the tens of thousands of families on local authority waiting lists and the 5,000 homeless people?  
In 2005, the National Economic and Social Council (NESC) argued that the state needed a social housing stock of 200,000 units. They recommended that Government provide 73,000 new units by 2012, or 10,000 new units a year for seven years.  
Crucially, the NESC argued that these figures should be net of tenant purchase. On average, 1,500 social housing units are bought by tenants every year.   
So, if the Government wanted to meet the NESC's target, it would have to provide 11,500 new units a year for seven years.  
In the Towards 2016 Partnership Agreement, the Government promised to provide 9,000 new social housing units per year from 2007 to 2013. This figure took no account of tenant purchase.   
On the basis of these commitments, it would take the Government 10 years to reach the target that its own think-tank, the NESC, believed necessary to meet housing need.  
In 2006, the state provided 5,208 new social houses. In 2007, that figure increased to 8,673. Figures for the first quarter of this year suggest that the Government might actually meet the 9,000 commitment.  
However, with a 6.6 per cent cut in funding for social housing in 2009, there is little chance that the Government will meet its own National Development Plan targets next year, let along those proposed by NESC.  
This is all the more troubling given the increasing demand for social housing. The Department of Environment, in conjunction with local authorities, carries out a housing needs assessment every three years. This study provides the benchmark for social housing provision across the state.  
The last needs assessment was carried out in 2005 and concluded that 43,000 households were in need of social housing.  
Local authorities are currently in the process of collating their figures and forwarding them to the Department of the Environment. Initial signs from the urban centres are that housing need is increasing.  
More troubling, as house repossessions and illegal evictions continue to rise, levels of housing availability are likely to increase even more rapidly in the coming year, making the 2008 figures less than reliable when released next year.  
And so an increasing demand for social housing at a time of reducing supply can only mean one thing: more people stuck on housing waiting lists, living in inadequate or overcrowded accommodation, or - worse - living in hostels, emergency B&Bs or on the streets.  
Yet when presenting the housing budget last week, Minister Finneran said that his priority is to ensure that the "most vulnerable sections of society" will be "accorded very clear priority". What budget was he talking about?
An Phoblacht Magazine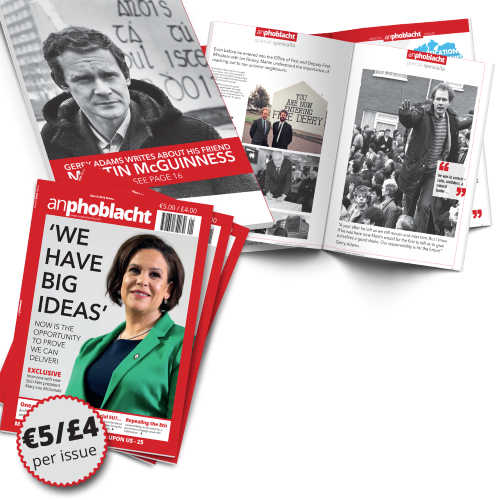 AN PHOBLACHT MAGAZINE:
The first edition of this new magazine will feature a 10 page special on the life and legacy of our leader Martin McGuinness to mark the first anniversary of his untimely passing.
It will include a personal reminiscence by Gerry Adams and contributions from the McGuinness family.
There will also be an exclusive interview with our new Uachtarán Mary Lou McDonald.
test