23 October 2008 Edition
Budget anger - public pressure must continue
BRIAN Cowen's announcement of new arrangements for medical card entitlements for the over 70s is a significant climb-down by a government reeling after the wave of anger which hit them in the wake of one of the most unjust and unpopular budgets in decades.
After creating widespread anxiety it is now unclear whether the Government will make any savings from the medical scheme at all. A government in crisis is now making up policy as it goes along.
Just six months into his term of office Brian Cowen has made one of the biggest government climb-downs in the history of the state under pressure from his own back-benchers, the opposition and, crucially, the public at large.
But the decision on medical cards for the over 70s was just one of dozens of unfair cutbacks included in Budget 2009 and the public pressure witnessed on the streets in recent days must continue.
The government must be forced to reverse other reactionary measures such as the decision to increase school class sizes and to make further changes to the deeply unfair 1% income levy which still affects many low paid workers.
The government's climb-down on the income levy does not go far enough. Working families and those on very low incomes will be hardest hit by this punitive tax.
Sinn Féin in its pre-Budget submission called for a rolling review of taxation with the objective of increasing the number of tax bands to assist working families and make the taxation system fair and progressive.
It also made a number of revenue raising proposals, which, if implemented, would have raised enough money to ensure that the most vulnerable in society were protected. These included ending tax breaks for private hospitals and making all discretionary tax relief schemes available only at the standard rate. This would raise €1 billion.
As Sinn Féin Dáil leader Caoimhghín Ó Caoláin pointed out this week, there are many other revenue raising options open to the Government but the policies that they pursue have led them to target the most vulnerable in Irish society.
An Phoblacht Magazine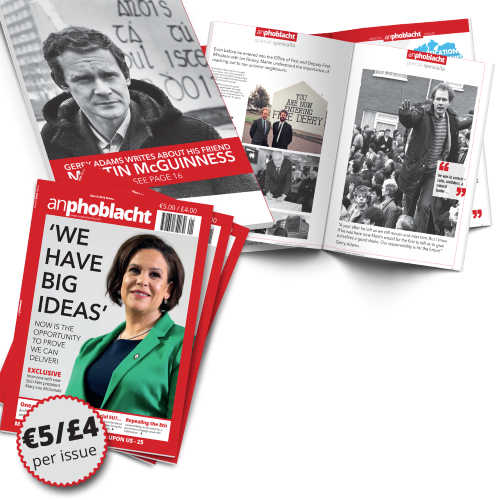 AN PHOBLACHT MAGAZINE:
The first edition of this new magazine will feature a 10 page special on the life and legacy of our leader Martin McGuinness to mark the first anniversary of his untimely passing.
It will include a personal reminiscence by Gerry Adams and contributions from the McGuinness family.
There will also be an exclusive interview with our new Uachtarán Mary Lou McDonald.
test