16 October 2008 Edition
Matt Treacy
Autumn days of the banger
One of the great joys of junior hurling is that you never know who YOU will end up marking. Especially as the season progresses and you might have the chance of winning something. Suddenly the pot bellied, myopic balding corner forward who was even slower than you when you played them the last time has miraculously metamorphosised into someone with the pace of Usain Bolt, the accuracy of Joe Canning and who only knows the half forwards by their numbers. 'Down the line Number 10.' And he's from Kilkenny or Tipperary or Cork.
Then you realise that you are in the presence of one of what in Dublin, and perhaps elsewhere, is known as a 'banger.' When we were kids one of our betes noir was a Donegal man Paddy O'Grady who basically ran the local Robert Emmets club. Best known, sports fans, for having been the club of Niall Quinn before he deserted hurling for that Fancy Dan carry on.
My Da and Paddy Purcell from Portumna (RIP) temporarily suspended our Rollerball hurling in the field for the duration of, and for the pleasure of beating Donegal Paddy in, the football road league which was a huge venture involving hundreds of kids under the age of 14. Or at least they were supposed to be under the age of 14.
That was where you met your bangers. For O'Grady was obsessed with bangers, or 'bongers', both the playing of them and the seeking out of them among the opposition with all the zeal of a Calvinist Witchfinder. On arriving at the Eight Acres my Da would be first greeted by himself peering suspiciously at our team before removing his pipe to inevitably enquire. "Any bongers there Jimmy?" To which the inevitable riposte was "Ah, the same as yourself Paddy."
Then you found out you were marking the lad with the beard who came onto the pitch after getting a hug from a woman who was driving a Mini. And she wasn't his mother. This all came to a head one year when ourselves, James' Road, met one of Paddy's multiple entries (he being somewhat akin to Aidan O'Brien in targeting a Group One race), one of the St. Peter's teams, in the final.
And just to ensure that he had all the bases covered O'Grady refereed the match. Inevitably it all went pear shaped. Penalties were denied and awarded for no apparent reason – one of them to the opposition for an incident that took place over near the sideline – goals disallowed and sneaky digs thrown. And then there was a free-for-all, a pitch invasion of mothers wearing head scarves and wielding bags, small children and groceries as weapons, the intervention of Father Doody and the kicking of someone's Ma up the arse by my brother.
It was all very unseemly, a disgrace to the Association and most of all, great craic. The match was officially abandoned but we heard later that Paddy O'Grady had reassembled his team, those of them who were not rushing to do the late shift or gumming for a pint, and presented them with the trophy and medals.
We claimed the moral victory and seceded to join Good Counsel in Drimnagh. Indeed several of the players who played for Dublin in the All Ireland minor hurling final of 1983 were among the defectors. Their skills having been honed in the Killing Fields of Greenhills.


As I say, we are in the Days of the Banger. Just as surely as the leaves turn golden and drift gently from the trees, Autumn brings the Banger. In its most blatant form Bangers are complete strangers altogether to the club they are allegedly members of when togging out in the latter stages of the Championship. Like my uncles who won county finals in a certain county in the 1960s playing as other people. And being marked by other chaps they knew who were playing as other people. A bit like a Paul Auster novel. The surreal spectacle of lots of Dubs trying to batter each other senseless while representing  villages they probably wouldn't have been able to find on a map. I think it was pay for play, or pints and a big dinner for play, and if you won you had to give your medal to whoever you were supposed to be in reality. Or fiction.
Such blatant use of the Banger is rare these days although it is always a danger when playing a 'culchie' team made up of public servants (note I said public servants ) or other exiles who keep themselves to themselves other than to brave the savage waters of Dublin hurling. And fair play to them. Except as Lar Foley used to say 'You're not winning our fucking championship.'
A more subtle use of the Banger is to place players from higher grades into your second or third teams when there is a chance of winning something. It is an art form that employs the dedication and intelligence of many. And just as in the battle between the intelligence agencies of the Great Powers, where there is intelligence there is counter intelligence.
Agents within the enemy camp are cultivated and recruited on the basis of someone's son not being picked for the under 8s. Team sheets are sought as eagerly as once were the equations for the hydrogen bomb. Indeed secret filming of matches and training sessions is not unheard of.
And like the battle between the Great Powers, much of it cancels itself out so that after all the jigs and reels the teams actually do line out 'as selected.' And a good thing too because a lad that had just wandered in at the last minute might get a right kick up the hole. 

An Phoblacht Magazine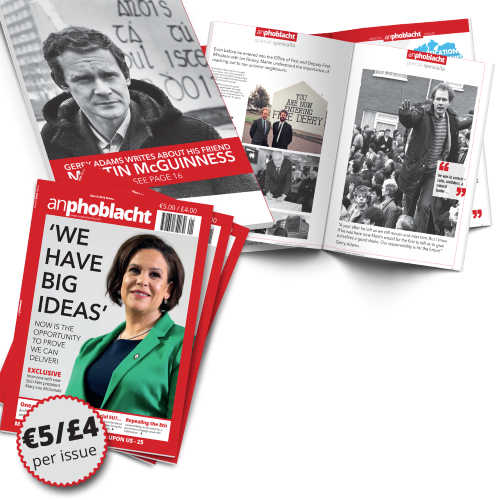 AN PHOBLACHT MAGAZINE:
The first edition of this new magazine will feature a 10 page special on the life and legacy of our leader Martin McGuinness to mark the first anniversary of his untimely passing.
It will include a personal reminiscence by Gerry Adams and contributions from the McGuinness family.
There will also be an exclusive interview with our new Uachtarán Mary Lou McDonald.
test