9 October 2008 Edition
Threat to 1,500 Aer Lingus jobs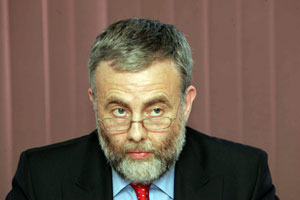 AER LINGUS employees are to ballot for all-out industrial action over a cost-saving plan by management looking to save €74 million that requires 1,500 jobs being outsourced or axed altogether.
The plan also introduces a pay freeze and new contracts for staff. The IMPACT trade union has described it as "severe and draconian". SIPTU has called it "Irish Ferries Mark II".
Aer Lingus management says it wants an agreement in place on the changes by the end of November.
It is understood that the plans would outsource employment of ground operation staff who deal with check-ins and baggage handling, as well as those who deal with cargo and catering at Cork, Dublin and Shannon airports. Employees will be asked to transfer a new employer or take voluntary redundancy.
Aer Lingus wants to close its bases in Shannon and Heathrow in London and change terms and conditions for cabin crews on US-bound flights from next year.
Gerry McCormack, National Industrial Secretary for SIPTU, said:
"This is Irish Ferries Mark II. It represents a fire-sale of good-quality jobs by a management that can see no further than the next quarter's profit and loss sheet."
SIPTU and IMPACT have rejected the plans for outsourcing cabin crews. Assistant General Secretary of IMPACT Christina Carney said that while the union is willing to discuss cost-cutting measures with management, outsourcing is not on the table.
Some 1,700 Aer Lingus employees are to be balloted for industrial action in response to the proposals.
FAIR EMPLOYMENT
SIPTU has also called on the Government to introduce special legislation to ensure fair employment practices in the aviation industry.
SIPTU General President Jack O'Connor said that slashing workers' wages will not save Aer Lingus. He also said that the situation in Aer Lingus is not isolated and that workers' wages in the aviation sector are "being driven through the floorboard".
"We will be insisting that the Government takes steps to address this and there is a means by which it could address this – by enacting legislation to put in place fair employment rules which would establish a threshold of decency in that industry.
"I would be drawing parallels with the provisions for that has been made for the bankers. If there are laws that can be passed for millionaire bankers then surely there can be laws passed to facilitate workers and provide the basic threshold of decency in a key industry in this country."