9 October 2008 Edition
Matt Treacy

Antrim and Galway in Leinster
SO the GAA Special Congress has passed the new yellow card rule and voted overwhelmingly to allow Antrim and Galway take part in next year's Leinster championship – against, it has to be said, the opposition of most Leinster hurling counties.
One delegate, less than touched by an emotional reference from an Ulster delegate (not from Antrim, Down or Derry, let it be said) to saving the game, remarked that it might be better if the said delegate's county played the game rather than talked about it.
Anyway, it will be interesting to see what transpires although any time it is proposed to place Tyrone into the weak Connacht football championship there will be strong support from Dublin, Offaly, Westmeath and Wexford     .
Galway's entry into the Leinster hurling championship will have recalled for older readers their time spent in Munster between 1959 and 1969.
Galway had reached several finals in the previous decade, most noticeably in 1953, when they were beaten in a tough and controversial match with Cork. It was alleged that Christy Ring had 'done' Galway defender Mick Burke off the ball and one of his comrades thumped Christy at the post-match celebration in the Gresham Hotel.
On the following morning, the Galway players, obviously not feeling that they had had satisfaction, skipped early Mass in Gardiner Street and repaired instead to Barry's Hotel, where one of them again tried to thump the bould Christy as he tucked into his ham and eggs. This led to another fight that was taken outside onto the streets, much to the amusement of locals, one of whom is said to have remarked that someone should send for the Vinnies. All very unseemly.


GALWAY also reached the 1955 and 1958 finals where they fell respectively, and relatively easily, to Wexford and Tipperary. Their frustration led them to make the move to Munster in the belief that by regularly playing at a higher standard they would improve and possibly even challenge for provincial honours.
The Connacht hurling championship had ceased to be after Galway had beaten Roscommon in the 1922 final. It was revived again in 1995 at a time when Roscommon had what might best be described as a 'robust' side, and had actually beaten Wexford in the Centenary Cup in 1984. But it was discontinued following another series of meaningless hammerings by Galway of their neighbours in 1999.
Mention of Roscommon reminds me of a time when the uncle was a Dublin selector and they played them in a Division Two match in Athleague, which was around the time of their 'revival'. Hurling it was not and I clearly remember the uncle saying that they wouldn't be returning to that 'kip' any time soon.


IF Galway's entry to Munster was fuelled by optimism they were soon disabused.
In the decade they spent there, they only managed to win one match (against Clare, I think) and departed seemingly as far away from All-Ireland glory as ever.
There had, however, been significant progress at under-age level. Galway lost to Cork in the 1970 minor final, and the backbone of that team went on to win the All-Ireland under-21 title in 1972 when they beat Dublin. Five of the team that played that day were part of the Galway senior team beaten by Kilkenny in the 1975 final.
Galway are in a much stronger position now, having won four under-21 and six minor All-Irelands since 1990. Galway club teams have, in the same period, won eight All-Ireland club titles. An impressive tally but the ghost at the feast is the All-Ireland senior title. It is 20 years since that was last accomplished and they have appeared as beaten finalists on just four occasions in those frustrating decades compared to eight finals and three victories between 1975 and 1988.
It is a monkey on their back every bit as onerous as that which rests on the shoulders of Dublin football. And it's worse, in Galway's case, because every year seems to bring renewed hope based on the promise of another dazzling batch of under-age stars like Joe Canning, without doubt the most famous and probably the greatest under-age hurler in the history of the game. To date, he has two minor, one under-21 and two club All-Ireland winning medals, not to mention a Fitzgibbon Cup won with LIT in 2007.
Even in defeat he is hard to miss as again this year with 1-16 (their entire score) when on the LIT side defeated in the Fitzgibbon final and 2-12 of Galway's 2-15 in their qualifier defeat by Cork. The rest of the team's seeming dependence on Canning, particularly in the Cork game, has led to some unkind jokes, one example being "Question: What have Joe Canning and an SUV got in common? Answer: They both carry a lot of wasters." And, as I say, that's the nice version.


CERTAINLY it will be interesting to see how he and his team get on in Leinster and great attention will be paid to the draw to see who Galway play in the first round.
The expectation, of course, is that it will be Galway and Kilkenny who decide the honours and their entry has certainly raised the bar for Offaly, Wexford and Dublin, all of whom acquitted themselves well this year and who have ambitions for the future.
And in all of this concern for the future of hurling, spare a thought for the hurling folk of Westmeath who – despite winning the Christy Ring Cup twice to Antrim's once, and despite winning Division Two this year while Antrim were relegated to that division –  are being thrown out of the Leinster championship and were not promoted to Division One.
And then there are people who will have you believe that their every waking moment is consumed by the passion to spread hurling among the weaker counties. As the man said, maybe if they actually attempted to play and develop the game as Westmeath do it might stand them in better stead.

An Phoblacht Magazine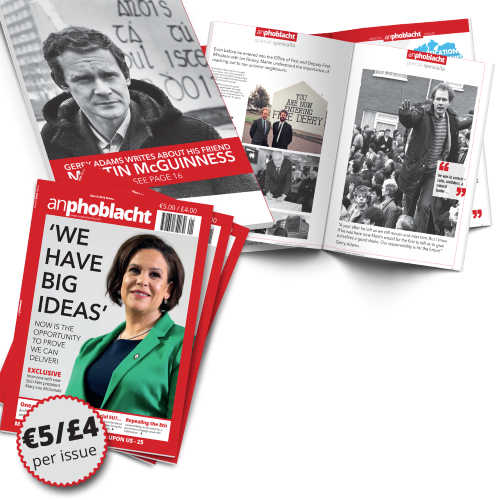 AN PHOBLACHT MAGAZINE:
The first edition of this new magazine will feature a 10 page special on the life and legacy of our leader Martin McGuinness to mark the first anniversary of his untimely passing.
It will include a personal reminiscence by Gerry Adams and contributions from the McGuinness family.
There will also be an exclusive interview with our new Uachtarán Mary Lou McDonald.
test