9 October 2008 Edition
Call for Campbell to act as 'a minister for all'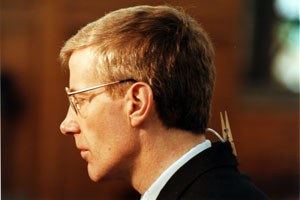 DUP MINISTER for Culture, Arts and Leisure Gregory Campbell is coming under increasing fire over his attitude to the GAA.
In remarks that were seen as ludicrous and offensive, Campbell described the Tyrone football team's All-Ireland victory as "an international sporting event" because it was all-Ireland in nature.
Then the GAA's Ulster Council hit out at remarks by Campbell in which he attempted to dictate who GAA clubs should or should not be named after. Campbell criticised those clubs or grounds that were named in honour of Irish patriots,
Sinn Féin West Tyrone MLA Barry McElduff has said that many who follow the GAA are fast losing confidence in Gregory Campbell's ability to act in an impartial and fair manner as "a minister for all".
McElduff said:
"Gregory Campbell's constantly belligerent and dogmatic approach to the GAA and its supporters has led many to question his ability to acknowledge all traditions sporting beliefs and endeavours as a minister.
"It is now two weeks from the fantastic Tyrone All-Ireland success and one week since we saw a fantastic Tyrone double with the Minor win, yet we still have no statement of congratulations on Gregory Campbell's departmental website, not to mention any word of a reception for Tyrone players in Stormont.
"It is not too late for him to approach this issue in a inclusive and fair manner.
"At a time when GAA halls are being targeted in arson attacks, comments such as Gregory's need to be, if anything, measured, courteous and respectful of a sporting tradition that has one of the biggest and most vibrant support bases across this island."