2 October 2008 Edition
Unite to recommend rejection of pay deal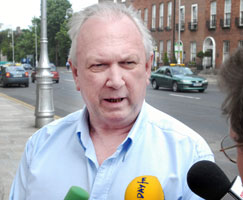 BY STEPHANIE LORD 
THE second-largest trade union across the island, Unite, has announced it will recommend rejection of the draft pay deal agreed between trade union and employer representatives and the Fianna Fáil/Green Party Government.
The executive committee of the union in the 26 Counties has said it will make the recommendation at a conference of shop stewards, officers and workplace representatives on 10 October which will precede a ballot of members in the state. The union will make the ballot result public in advance of an Irish Congress of Trade Unions conference on 17 November.  
Unite Regional Secretary Jimmy Kelly said of the deal:
"We were clear from the outset what our minimum requirements were from any deal. The draft agreement on which our members will vote comes up short in too many key areas. The pay element represents a pay cut in real terms for working people. The special treatment we deemed essential for the lowest paid has not been delivered, with the token gesture offered representing a maximum of five cents per hour.
"We will fight on a local level to achieve fair pay. In addition, we sought improved pension coverage to bring us into line with our European neighbours. The employers rejected this and the Government refused to get involved."
In contrast, IMPACT, the largest trade union in the public sector, has voted to recommend accepting the deal in a state-wide ballot.
It is also still unclear whether all employers will accept the deal as the Construction Industry Federation this week indicated that there are concerns among its membership that the pay pause included in the deal was "not long enough" and they wished to see further delays to pay increases.