2 October 2008 Edition
Bigoted Limavady vote mirrors unionist mindset at Executive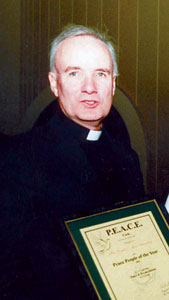 A PROPOSAL to give the freedom of Limavady to former Presbyterian minister Reverend David Armstrong and Catholic priest Fr Kevin Mullan was rejected on Monday night when unionist councillors voted en masse against it.
Armstrong was forced to leave his Limavady parish in 1984 in the face of a hostile and bigoted reaction from certain parishioners after he wished his Catholic neighbours a happy Christmas the previous year.
Sinn Féin MLA John O'Dowd described the development as "an example of the bigoted mindset which must be challenged in our society" and is why the Executive must lead by example through equality and partnership government.
O'Dowd said on Tuesday:
"For months Sinn Féin has been attempting to ensure that the institutions of the Good Friday Agreement are able to operate on the basis of partnership and equality. That means unionists accepting sharing power on the basis of equality with nationalists and republicans.
"Last night's vote in Limavady Council demonstrates in a very clear way the distance that both the DUP and UUP have to travel.
"The decision to vote against granting the freedom of the borough to the two clergymen who had 20 years earlier been the victims of loyalist threats was based entirely on sectarianism, bigotry and prejudice. It is a far cry from the sort of partnership approach required."
COME UP SHORT
The Sinn Féin MLA was regretful about the roles of the leaders of unionism.
"Once again the political leaders of unionism have come up short. They now have a significant job of work to persuade the nationalist and republican community that they are indeed capable of sharing power and taking decisions based on equality.
"The fact that neither unionist party was prepared to even try and defend their actions publicly and the leaders of both unionist parties have remained quiet on the actions of their councillors says much.
"For our part, Sinn Féin will continue to confront inequality and sectarianism and we will continue to remain focused on ensuring that the institutions are able to operate in true partnership."