2 October 2008 Edition
Bank bail out - what's the deal?
The current global finance crisis has been caused by the actions of the international banking and financial sector and the inherent nature of greed and hunger for short-term profits at any cost.
The Irish Government like many others across the developed world has allowed such a collapse to take place due to their refusal to put in place adequate regulations to protect ordinary investors from the finance sector's reckless practice of buying and selling cheap money to one another.
Sinn Féin has welcomed the Irish Government's decision to guarantee all deposits in Irish banks but has also demanded that Finance Minister, Brian Lenihan immediately outline the detail of the deal he has struck with the banking sector. People deserve to know the terms and conditions of the government's guarantee.
State intervention is essential in the banking sector but we need to know what is the quid pro quo? What has the government extracted from the banks in return for bailing them out? As we go print, three days on from the initial government announcement, we still don't know the actual details of the package.
The latest developments should herald a new relationship between the state and the banking sector. Sinn Féin has always argued for a state bank. With a state bank, government can adequately protect the investments and deposits of ordinary citizens and small businesses whilst wisely investing profits back into the public purse to the advantage of all.
When the Government bailed out AIB in the 1980s after the ICI collapse, a levy was introduced on the banks. This must be re-examined. There must also be a commitment from bank management to forego bonuses for the length of the time covered by the latest government guarantee.
A line in the sand must be drawn in relation to the reckless practices in the Irish financial sector. The banking sector must be held accountable for their actions which should not conflict with the interests of the overall social good. It is time for responsible banking.
An Phoblacht Magazine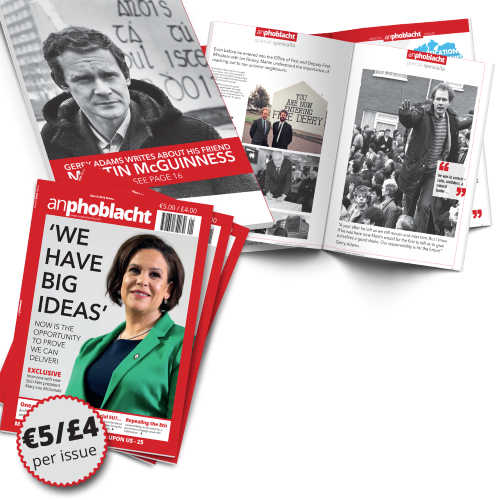 AN PHOBLACHT MAGAZINE:
The first edition of this new magazine will feature a 10 page special on the life and legacy of our leader Martin McGuinness to mark the first anniversary of his untimely passing.
It will include a personal reminiscence by Gerry Adams and contributions from the McGuinness family.
There will also be an exclusive interview with our new Uachtarán Mary Lou McDonald.
test