25 September 2008 Edition
The Fifth Column
Moses and Tyrone's Red Sea
ONE Tyrone man who wasn't dancing in the streets about the triumph of Tyrone was Ryan Moses. The leader of the Mid-Ulster Young Unionists' Association was dancing up and down before the match, complaining about Strabane Sigerson's GAA club light-heartedly kitting out the town's five 18-foot red 'Tinny' statues in red and white strips.
While Mickey Harte was leading disciples of Tyrone GAA to the Promised Land, like his biblical namesake, Moses was swamped by the Red (and White) Sea and he wasn't a bit pleased about it. Accusing Strabane District Council of allowing the "intimidation of Protestants" with all this GAA colour and jollity (wasn't Sam Maguire a Protestant?), what, he asked, if the statues had been decked out in Orange sashes? (Er, the Orange Order isn't renowned for its sporting behaviour, Brother Moses.)
Now the spoilsport has lodged a formal objection to Strabane District Council. Red card for Ryan.


Right Hook
EXTRA-LARGE rugby pundit George Hook was hired in by the party chiefs to give Fine Gael a pep talk during its parliamentary party pow-wow down in Clare last week. Motivational speaking they call it.
The Newstalk 106 drive-time radio presenter was dressed for his address. "I'm wearing a blue shirt," he announced, "so you can see which team I support."
And then George recited some of the great names of Fine Gael's history: WT Cosgrave, John A Costello, Garret FitzGerald, Eoin O'Duffy, Oliver J Flanagan, Alice Glenn (actually, he forgot the last three so I thought I'd just remind Richard Bruton).
And then 'Hooky' told them what he thought they needed to hear.
"Why are YOU losers?" he roared, ringing the rafters and sending shivers down those second-rate, Blueshirt spines. "Cos losers you are!"
Worth every penny.


PDs taking the rise
HE Sunday Business Post/Red C poll showed that the Progressive Democrats increased their popularity by a third last week when they announced they were going out of business.
When they do finally shut down for good, just think how much people will love them then! They might even break that 3 per cent barrier.


Fall from grace
SARAH PALIN and John McCain aren't up to running USA plc, according to a top economic adviser – John McCain's own top economic adviser, in fact.
The former CEO of technology giant Hewlett-Packard, Carly Fiorina, was drafted onto McCain's campaign team to give it some punch. McCain's team were stunned, though, when the woman dubbed by Fortune magazine as "the most powerful woman in business" said in a radio interview that none of the US presidential candidates could run a major US corporation - including Palin and McCain.
The high-flying Fiorina fell from grace very quickly and was swiftly dropped from all key-note campaign events for McCain/Palin.


Dirty tricks
THE president of an autonomous region in Spain has caught himself out with his pants down story.
Miguel Ángel Revilla Roiz, leader of the Autonomous Community of Cantabria, in northern Spain, told a TV interviewer that his first sexual experience was with a prostitute in a brothel at the age of 18.
Now female members of the opposition of the conservative Popular Party are demanding his resignation. He should be showing young people an example rather than admitting that he used the sex trade.
Revilla has accused his critics of having nothing of substance to attack him over except his past indiscretions as a youth.
"Ninety-nine per cent of Spanish men did it back then," the fallen Ángel said. "There are major problems which need to be addressed now, not what a poor 18-year-old did."
Mr Revilla is 65.


Elder statesman
JAPAN'S new prime minister was elected on Monday as young supporters stormed a souvenir shop selling everything from bean buns to kimono belts (€800/£650) adorned with the smiling face of Taro Aso, known to his fans as 'Cool Dude'. Mr Aso is 68.
There's hope for Alliance Party leader David Ford yet. Or maybe not.

An Phoblacht Magazine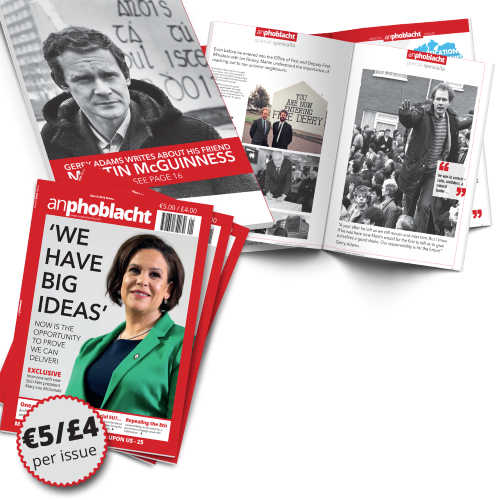 AN PHOBLACHT MAGAZINE:
The first edition of this new magazine will feature a 10 page special on the life and legacy of our leader Martin McGuinness to mark the first anniversary of his untimely passing.
It will include a personal reminiscence by Gerry Adams and contributions from the McGuinness family.
There will also be an exclusive interview with our new Uachtarán Mary Lou McDonald.
test