25 September 2008 Edition
Media View BY FRANK FARRELL

Siren Voices
YOU KNOW things are serious when The Irish Times decides to come over all republican in its mission to save the Irish people from their foolish 'No to Lisbon' vote. But the Times is nothing if not Eurocentric, and with most analysts and Government spinners concluding that a second Lisbon referendum will be held in 12 months' time, the message from 'The Paper of Record' is that all and every disingenuous argument as well as threat must be deployed against the irredeemably nationalist Irish people.
We have had some priceless arguments and polemics recently based on the notion that the EU is somehow an anti-imperialist alternative to British rule. Last Tuesday, the Times European editor, Jamie Smyth, wrote an article, part sorrowful, part comic, about the cool feeling of rejection he is experiencing among the elite European media and diplomatic corps in Brussels. Poor Jamie. We are, he wrote, being held responsible for "ruining Europe for everyone else"; for destroying French President Sarkozy's presidency as well as Germany's growing power in the Council of Ministers; for causing great discomfort to the Dutch and Danish governments by encouraging their voters in their presumptuous delusion that they, too, ought to have had referendums on Lisbon.
We have also alienated the Spanish, the Portuguese (the treaty was named after their capital city!) and the Poles. And we are responsible, too, for the growing strength of the far-right Jörg Haider in the forthcoming Austrian elections. Smyth concluded his missive by referring to the possibility that he may have to dust off his British passport (he was born in the North). We are unsure as to whether Jamie was joking.
Garret FitzGerald doesn't do humour (not intentionally, anyway) but last Saturday, Britain's favourite taoiseach argued that the EU was the reason why Ireland had freed itself from British hegemony. In our foolishness, we had always thought that Irish people themselves, led by men like Desmond FitzGerald – Garret's dad – and others who occupied the GPO in 1916 were primarily responsible for any measure of freedom we enjoy today.
But, no, it was the EU. Apparently, the "Anglocentric" Irish never appreciated that European markets were the key to Irish freedom. Just a few sentences later, FitzGerald is referring to the "Anglophobic" Irish (which is it, Garret?) especially those in 'Sinn Féin/IRA' (funny how this born-again republican lapses into unionist terminology) who cannot see beyond Britain and who therefore fail to see the value of Europe. Are you still with me?
FitzGerald's logic is more than a little suspect here. If we are so blinded by narrow Anglophobia, then why are republicans campaigning vigorously against another entity entirely, the Eurofederalist project?
The Times's foreign policy wonk, Paul Gillesepie, a former Socialist Workers' Party guru and now the chief intellectual among Irish Eurocrats, harped on the same theme the previous week, warning that another 'No' vote will detach us from Europe and reposition us within Britain's sphere.
Funniest of all was the Times story, given prominence and flagged on the front page, that exposed the right-wing Libertas leader, Declan Ganley, as not an Irishman at all, at all. According to an exclusive investigative scoop by the Times and flagged on its front page, Ganley, then British-based and the son of an Irish emigrant, used to describe himself for some years as "British" when filling in company directors' forms for company records. This from a newspaper whose former long time chairperson, Major (and that's not an Óglaigh na Éireann title!) Tom McDowell, in communication with the British Embassy, once described his editor, Douglas Gageby as a "white nigger" for being too nationalist.
It has come to something when An Phoblacht has to lecture the Times for its crude, contrived nationalism. Perhaps the Peace Process really has corroded our republican philosophy.



THE steadfast Fionnuala O'Connor continues to hold the pass for Irish liberalism against republicanism. She still adopts that air of weary resignation in the face of the two 'tribal entities' – Sinn Féin and the DUP – who, she writes, are too keen to score points against each other. Adopting the time-honoured Pontias Pilate act of exasperation with the two unreasonable sides, O'Connor refuses to acknowledge that the DUP is loath to actually share power with Fenians.
The problem, according to O'Connor, is not that the DUP is afraid to support devolution of police powers to the Assembly because nationalists have equal say in that forum, but rather that the two parties are afraid to get on with each other. A child, or a creature from outer space could see the problem as unionist reluctance and fear to share power but O'Connor gives Southern middle-class readers their traditional cop-out rationale with the usual 'pair-of-them-in-it' argument. It is a cowardly, dishonest and politically discredited argument that is well past its sell-by-date. But the SDLP siren voice is still battling hard to save that party from extinction, at a time when even Fianna Fáil has given up on it.
An Phoblacht Magazine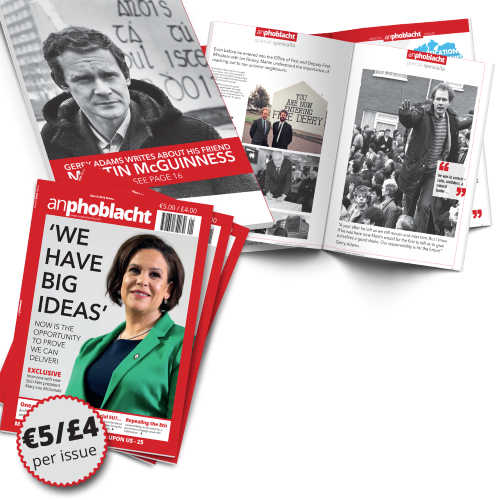 AN PHOBLACHT MAGAZINE:
The first edition of this new magazine will feature a 10 page special on the life and legacy of our leader Martin McGuinness to mark the first anniversary of his untimely passing.
It will include a personal reminiscence by Gerry Adams and contributions from the McGuinness family.
There will also be an exclusive interview with our new Uachtarán Mary Lou McDonald.
test