25 September 2008 Edition
Plaque unveiled to Ballymurphy IRA Volunteers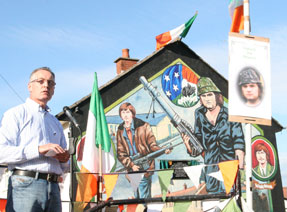 A PLAQUE to the memory of IRA Volunteers Jim Bryson and Patrick Mulvenna was unveiled in Ballymurphy, west Belfast, at the weekend by Sinn Féin Minister Gerry Kelly, a cousin of Patrick Mulvenna's.
The two legendary Volunteers and IRA comrades were ambushed by the British Army in Ballymurphy on 31 August 1973. The British troops were hiding in a secret observation post above the shops in the Bullring when they opened fire.
Paddy died instantly. Two other Volunteers, including Jim, were seriously wounded. Jim died from his wounds on 22 September.
The two Volunteers are still revered in their community and a large crowd turned out to pay tribute to their sacrifice at the unveiling of the memorial plaque.