18 September 2008 Edition
Fifth Column
'100% in the IRA'
MUCH ANGST amongst the glitterati about Hollywood 'movie babe' Rose McGowan saying that she would have joined the IRA "100 per cent" if she'd lived in the Six Counties.
Rose plays an IRA Volunteer (or a 'high-ranking IRA femme fatale' for our more romantic readers) in the new film, Fifty Dead Men Walking. At the Toronto Film Festival, Rose said in all honesty:
 "I imagine that, had I grown up in Belfast, I would 100 per cent have been in the IRA.
"My heart just broke for the cause and I have a lot of respect for the intelligence and the honour that these people carried. Violence is not to be played out daily and provide an answer to problems, but I understand it."
Needless to say this did not go down well with tout Martin McGartland, on whose story the film is based, or Dublin 2 unionists.
Rose could have been the media darling, of course, if she'd said she would have joined the British Army. Then the Irish Times would have hailed her 'following in the age-old tradition of the ancient Irish warrior spirit'.


Essential reading
GOOD to see Sunday Times hack Liam Clarke making An Phoblacht essential reading again, especially after his lapse over the New Year festivities.
In a piece on Sinn Féin and the DUP in the Assembly at the start of the year, Clarke told readers that the IRA had unusually not issued its customary New Year Message. This, Clarke concluded, was a signal that the IRA Army Council was disbanding. It wasn't. The statement had appeared in An Phoblacht several days earlier but the 'expert' Sunday Times scribe had missed it. Tut, tut.


Sunday Times defends Durkan
A CHASTENED Clarke (ridiculed by political internet bloggers like Cedar Lounge Revolution) is doing some of his basic homework now. After seeing last week's An Phoblacht, he claimed in this week's Sunday Times that we had misrepresented SDLP leader Mark Durkan's suggestion that the North effectively return to 'majority rule' (i.e. unionist rule).
But it's not only An Phoblacht that feels the wrath of Clarke.
While Durkan's idea, Clarke writes, "might seem cautious and measured enough to you or me, to Sinn Féin and hardline nationalist commentators it is nothing short of a declaration of war. They have retorted with distortion and smear tactics."
Who are the "hardline nationalist commentators", Liam? Er, he names just one pundit.
"Brian Feeney, a former SDLP politician who has written a history of Sinn Féin, lambasted Durkan as 'contemptible' and 'politically inept', predicting that 'the SDLP will never share power again'."
A-ha. In Liam Clarke's mysterious world, Feeney has written a book about Sinn Féin so he must be suspect. But what about Mr and Mrs Clarke's unauthorised (and piss-poor) biography of Martin McGuinness? Does that make Liam Clarke dodgy? Not half as dodgy as his membership from 1973 of the anti-republican Workers' Party (which was associated with the so-called 'Official IRA') until he became a jobbing hack in 1981. Oh, and Clarke also used to write for the Sticky news-sheet in the North. Of course, now he's a totally unbiased journalist and commentator.


Stephen Collins's lost leader
"ENDA KENNY is the only party leader from the last general election still standing," says the Political Editor of The Irish Times, the self-styled paper of record.
Progressive Democrats hagiographer Stephen Collins has got it wrong again
The fact is, Enda Kenny ISN'T the only party leader still standing. Gerry Adams is still around, as any political expert who had a clue what they were talking about would know – anyone whose twisted anti-republicanism didn't extend to twisting the facts.


Wild tales
'POP HEART-THROBS' Duran Duran were the target of an IRA attack, it has been "revealed" in the Irish Daily Star by one of the ageing pretty boys from the 1980s pop combo trying everything to flog his new book, Wild Boy.
When the Star says "revealed" it's more like 'recycled' when guitarist Andy Taylor rehashes the old tout's tale peddled by down-and-out former republican Seán O'Callaghan. He's been claiming for years that he stopped an IRA operation to blow up Prince Charles and Princess Diana as they were about to rock at a Duran Duran gig in a London theatre.
"Killing the heir to the British throne and wiping out the UK's most popular band in a single attack would have caused pandemonium and handed the IRA its biggest-ever coup," Taylor writes modestly in Wild Boy.
The 'revelation' was carried under the headline "IRA wanted to kill Duran Duran", which is patently untrue because the band wasn't the target even in this fantasy plot. (Besides, word has it that GHQ was then in the control of New Romantics very keen on Simon Le Bon, having wrestled control from the Spandau Ballet faction with whom they'd split after ousting fans of Phil Collins. So there.)


Tinker, Taylor, Spoofer...
ANDY TAYLOR adds: "The first I learned about [the alleged IRA bid to pop Prince Charles and the 'Queen of Hearts'] was years later when I picked up a paper and read an account in which Seán O'Callaghan confessed everything."
O'Callaghan also confessed (to three different newspapers) to having executed informer John Corcoran from Cork after warning his Garda Special Branch handlers what was about to happen. They allegedly did nothing, O'Callaghan says, so he went ahead and shot him dead. Surprisingly, O'Callaghan has never been charged with this offence, nor his extradition from England sought on this charge despite his public confessions. We wonder why.

An Phoblacht Magazine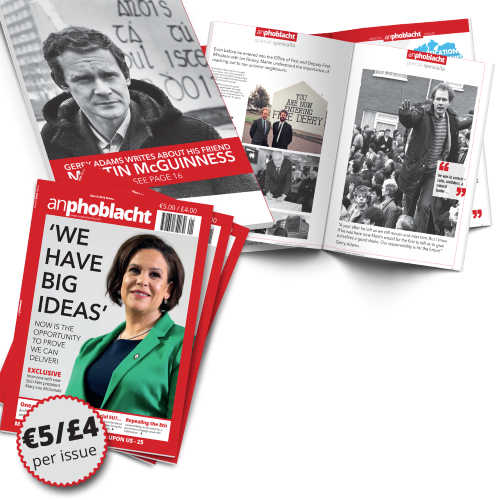 AN PHOBLACHT MAGAZINE:
The first edition of this new magazine will feature a 10 page special on the life and legacy of our leader Martin McGuinness to mark the first anniversary of his untimely passing.
It will include a personal reminiscence by Gerry Adams and contributions from the McGuinness family.
There will also be an exclusive interview with our new Uachtarán Mary Lou McDonald.
test