18 September 2008 Edition
Brit submarine deployed in Shell dispute?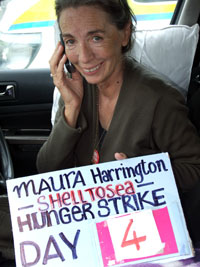 Reacting to widespread speculation that a nuclear-powered British naval submarine was positioned in Irish waters eleven miles off the Mayo coast as the pipe-laying ship Solitaire arrived for work on the Corrib gas pipeline, Sinn Féin Justice and International Affairs spokesperson Aengus Ó Snodaigh TD called on Minister for Defence Willie O'Dea to make a public statement on the matter.
Ó Snodaigh said:
"Defence Minister Willie O'Dea needs to make a public statement on this matter. There is widespread concern about the fact that the Irish Navy has been used to police the ongoing work by Shell at Glengad; however the use of a British Naval vessel in Irish waters is completely unacceptable.
"The vessel involved is believed to have extensive capabilities to intercept wireless communications such as mobile phones.
"The public need to know if a request was made by the British to enter Irish waters and if so, on what basis was this permission granted. If no request was made then why did the Irish Navy not take steps to arrest the vessel and its crew.
"I will be raising this issue directly with the Minister when the Dáil resumes at the end of the month."
The policing operation in connection with Shell's controversial gas pipeline from the offshore Corrib gas field on the Mayo coast is estimated to have cost millions of euro so far and Interpol's assistance has been sought to identify people protesting against the project.
Local schoolteacher and Shell to Sea campaigner Maura Harrington is entering her second week on hunger strike. She has vowed to continue until the Solitaire leaves Irish waters.
She remains in her locked car at Glengad, the site of the landfall for the controversial project.
Harrington is receiving regular visits from a doctor.  
In a letter delivered to the Solitaire on August 17 last,  Harrington had cited her terms and also noted that she weighed under seven stone and had calcified tuberculosis.   
'BOMB' DISTRACTION
Meanwhile, a controlled explosion was carried out on a device discovered near the entrance to the Dublin offices of Shell E&P Ireland last Monday night.
Terence Conway, a spokesperson for the Shell to Sea campaign group, said he was suspicious about the planting of the device. "What we are fighting for is to get the truth out and if we were to plant devices like that, it would only distract from the issues," he said.
"The distraction from the issues only benefits Shell. That is what Shell consistently wants, to make something else the issue and deflect from what is happening."
A number of people were arrested last week during protests against work being carried out by the huge pipe-laying ship. The ship has had to abandon its operations because of accidental damage to the vessel. It may now be delayed until the spring.