11 September 2008 Edition
Fifth Column
Go with the flow
SAMMY WILSON, the DUP's Flat Earth Minister, has poured scorn on people who believe that climate change is exacerbated by mankind's actions.
Writing in the News Letter, the naturally naturist Environment Minister said:
"Resources should be used to adapt to the consequences of climate change rather than, King Canute-style, vainly trying to stop it."
So there you go - go with the flow. The people of New Orleans should dry their eyes and just turn their city into one big water world theme park. And the 3,000 people in Belfast, Down, Armagh and Antrim who called the emergency services during the floods last month should have put down the phone and put on their water wings to practice their synchronised swimming for the London Olympics.
"Reasoned debate," Sammy dribbles on, "must replace the scaremongering of the green climate alarmists.
"The tactic used by the 'green gang' is to label anyone who dares disagree with their view of climate change as some kind of nutcase who denies scientific fact."
And anyone who argues against Sammy's view of the world is part of a "hysterical pseudo religion", he foams. This from a man whose respected colleague in the DUP and MP for South Antrim is the Reverend Willie McCrea.


Dark, satanic Mills
ONE MAN who does believe in a "hysterical pseudo religion" is DUP Mayor of Ballymena Maurice Mills.
When Hurricane Katrina hit New Orleans three years ago, killing 1,800 people and leaving tens of thousands of families homeless, Mystic Maurice harumphed that the devastation was God's punishment against those who practised sodomy. The human catastrophe occurred just days before what is known as 'the gay Mardi Gras' was due to take place in New Orleans, he helpfully pointed out.
In Maurice's eyes, the media failed to report that the hurricane occurred just two days prior to "the annual homosexual event called the Southern Decadence Festival". But it had not escaped the wrath of the DUP man nor the wrath of God.
"Hurricane Katrina descended on New Orleans and took many people suddenly into eternity," Maurice said.
 "Surely this is a warning to nations where such wickedness is increasingly promoted and practised.
"This abominable and filthy practice of sodomy has resulted in the great continent of Africa being riddled with Aids, all at great cost to the nations and innocent children."
When asked by the Belfast Telegraph last week about the impending threat of Hurricane Gustav to the poor people of New Orleans, the DUP harbinger of doom was a bit windy in case he caused another storm.
"The elements are in the hands of God. I'm leaving it there."
Let's batten down the hatches.


Green light over Guantánamo
AIR turbulence is unlikely to rock the steady flight path of Captain Brian Cowen and one of his cabin crew stewards, Green Party leader John Gormley, over Shannon and Guantánamo Bay.
The Fianna Fáil/PD/Green Government has been asked for information relating to the use of Shannon by CIA aircraft and crews or personnel in the 'extraordinary rendition' of a Guantánamo Bay detainee who could face the death penalty.
The request has been sent to the Taoiseach by lawyers representing Binyam Mohamed, a British resident arrested in Pakistan in 2002.
He has been charged there before the US Military Commission with offences which carry the death penalty. The request to Fianna Fáil and the Green Party is made under the Freedom of Information Act.
Clive Stafford Smith, a lawyer who works for human rights group Reprieve, said:
"Even if prisoners were not transported directly through Irish territory, the movements and activities of these [CIA] agents must be investigated, as should how Irish authorities came to be complicit in these activities."
Let's see if Green Party leader John Gormley helps Justice Minister Dermot Ahern and Fianna Fáil batten down the hatches.


Leo's dog whistle call
DOES the Fine Gael leadership back TD Leo Varadkar's coded, BNP-style call to pay six months' dole to unemployed foreign workers to make them go home?
Enda Kenny still seems to be in a witness protection programme while the usually liberal but wannabe leader Richard Bruton has taken a vow of silence.
Having a father who is from India, you would have thought might have given Leo a bit more sympathy for unemployed foreign workers, but then GPs are seldom unemployed and they're a class above your ordinary immigrant, aren't they? Besides, Leo sees a niche in the political market for an immigrant-bashing, trade union-hating, public sector-loathing figure and he's gonna be that man. That's what's really behind his 'dog whistle' call to the anti-immigrant and racist lobby.
But what does Richard Bruton think?

An Phoblacht Magazine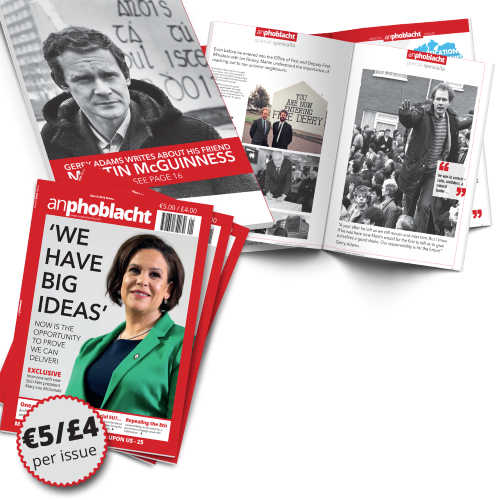 AN PHOBLACHT MAGAZINE:
The first edition of this new magazine will feature a 10 page special on the life and legacy of our leader Martin McGuinness to mark the first anniversary of his untimely passing.
It will include a personal reminiscence by Gerry Adams and contributions from the McGuinness family.
There will also be an exclusive interview with our new Uachtarán Mary Lou McDonald.
test