11 September 2008 Edition
Voices of the Irish struggle explored by award-winning Italian author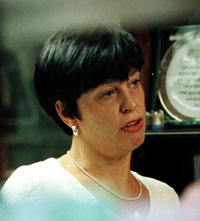 SILVIA CALAMATI is a journalist and a writer with a long interest in Ireland.
After taking her degree in Philosophy, she spent the years from 1985 to 1986 carrying out research at University College Dublin on behalf of the University of Venice.
She has been working as a freelance journalist for many radio stations, in particular with Italy's national broadcaster, RAI, and RAI News 24.
In 2002, she was awarded the Tom Cox Award in Belfast for her commitment as a writer and a journalist.
She has translated Bobby Sands's One Day in My Life into Italian.
She is the author of Northern Ireland: A Colony in Europe and the translator of  Renewing the Irish Church, written by Fr Joe McVeigh.
In 2001, she published Women's Stories from the North of Ireland; in 2006, Icaria (Barcelona) published it under the title Hijas de Erin: Voces de Mujeres de Irlanda del Norte. In 2007, this book won two important awards in Italy: Concorso Internazionale's 'Storie di Donne' and Premio 'Il Paese delle Donne' (Rome), awarded by the International Women's Centre.
Qui Belfast

BY PEADAR WHELAN


THE latest book by Italian writer and journalist Silvia Calamati, Qui Belfast, is a collection of articles based on interviews the author carried out with nationalists over the course of the 20 years or so that she has been travelling to the North.
Launched during this year's Féile An Phobáil, the book (just published in Italian) tells the stories of people who have suffered at the hands of the British state -  people such as Emma Groves, who was blinded when a British paratrooper shot a rubber bullet into her face at point blank range. A long campaigner for justice for the families of people killed and injured by rubber and plastic bullets, Emma Groves died last year.
Peter John Caraher, whose son Fergal was shot dead by the British Army, and Sinn Féin's Alex Maskey were also interviewed for the book.
Speaking to An Phoblacht, Calamati described how she began reporting on the 1981 hunger strike and covering many other stories up to the signing of the historical Good Friday Agreement in April 1998 and beyond.
"I travelled around the streets of the Six Counties, listening to the voices of ordinary people and of high-profile personalities from political and cultural backgrounds."
Calamati raises the question in her book as to why, in spite of this agreement in 1998, "peace with justice" is still not a reality for many.
"Why are those who were directly involved in the deaths of Pat Finucane and Rosemary Nelson still walking free? Why are the killers of journalist Martin O'Hagan not brought to justice? Why is justice still denied to many families of victims of collusion by the security forces, secret services and loyalist paramilitary groups?
"Why has the law, the institutions and the agencies involved, which allowed such acts of collusion to take place, not been dismantled yet?"
Calamati also wrote the book to counter what she sees as the British and unionists' attempts "to erase the historical memory of a conflict in which the British Government was directly involved and bears heavy responsibilities for. There is a pressing need to bring to light the truth about what happened in the Six Counties."

MEMORY
In the introduction to her book, Silvia Calamati writes:
"In my long-standing relationship with Northern Ireland it has always been the death of a person which brought me to write a book.
"I decided to write this book after the British Government announced its decision to knock down the prison of Long Kesh, a place where one of the most dramatic events of Irish history took place, in order to re-use the land for commercial purposes.
"Today we do not know if the attempts to cancel out the historical memory of what happened in Northern Ireland will succeed. Nor can we foresee if the people who have suffered violence for over 30 years will have justice or whether those who were responsible for the injustices and repression get away with it all.
"Everything is not fine. The dead have rights too. Such a memory will not be erased by millions of pounds being poured into Northern Ireland, cosmetic changes rapidly made to cities and villages and a flow of tourists never seen before.
"A terrible legacy of hurt remains. What happened to Emma Groves, Pat Finucane, Aidan McAnespie, Rosemary Nelson and many other people is deeply rooted in the hearts and minds of the people in Ireland."

An Phoblacht Magazine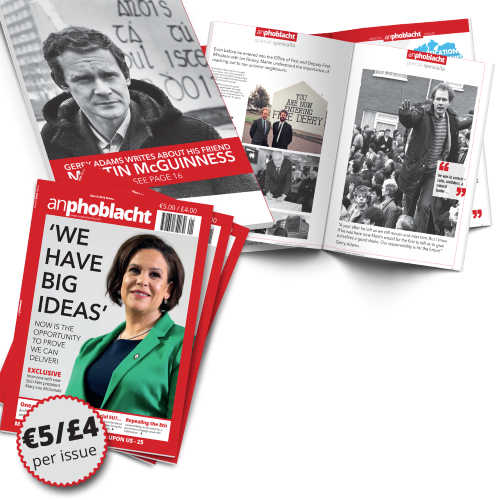 AN PHOBLACHT MAGAZINE:
The first edition of this new magazine will feature a 10 page special on the life and legacy of our leader Martin McGuinness to mark the first anniversary of his untimely passing.
It will include a personal reminiscence by Gerry Adams and contributions from the McGuinness family.
There will also be an exclusive interview with our new Uachtarán Mary Lou McDonald.
test