4 September 2008 Edition
'Murals of Derry' book captures Derry's history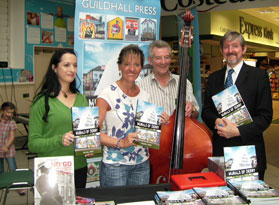 A NEW book, Murals of Derry (Guildhall Press), has been welcomed by Sinn Féin Foyle MLA Martina Anderson.
"I would like to wish Guildhall Press every success with their excellent new publication, Murals of Derry.
"It's very important that the murals which have been on the walls of our city for many years have been photographed, recorded and documented as part of our history. Some of those murals are now iconic images recognised right across the world.
"I also would like to mention the men and women behind the camera who photographed those images they have all played a vital part in preserving our history particularly for future generations and for that we should be thankful."