4 September 2008 Edition
The Renewed Cold War
INTERNATIONAL  Georgia-Russia conflict
BY DARA MacNEILL
Imagine the following scenario: at some not too distant point in the future, the Mexican government decides it is time for Texas, California and Arizona to leave the clutches of Washington and return home.
All three states were originally Mexican territory and variously ceded (under pressure) or annexed by an expansionist United States, in the 1840s.
And so Mexico launches a sneak attack on the Texan state capital Austin, including a massive and indiscriminate bombardment of the city, resulting in hundreds of civilian casualties. In response, the US military launches a punishing, punitive counter-invasion.
'World opinion' - or that part of it deemed suitable for print and broadcast - reacts with outrage, condemning the US aggression. Sanctions and economic ostracisation are threatened.
Such a scenario is utterly improbable, implausible and so entirely absurd that even Fox News would baulk at running it. Yet, as reaction to the Georgian attack on South Ossetia and the subsequent Russian response clearly show, you don't have to rely on Fox for implausible, irony-free news.
How else are we to interpret the lack of derision that greeted the statement from President Bush that Georgia "stood for freedom around the world and now the world must stand for freedom in Georgia."
In the worldview of Bush Georgia 'stood for freedom' by supplying troops - the third largest contingent after the UK - for the illegal invasion of Iraq. In a heavily symbolic move, the US military repaid the favour by ferrying home Georgian troops when Russian tanks crossed the border. 
But what will almost certainly delight the denizens of Fox is the fact that we have now entered a new Cold War with Moscow. At last, an enemy with a face, a geographically precise location and decades of propaganda ready for repackaging.
However, while the subtleties may be lost on Fox News and their ilk, this is no new Cold War. In fact the old one never ended, most especially west of the Berlin Wall.

NATO EXPANSION
While the old Soviet bloc has undergone a radical transformation since 1989, the same cannot be said of the victorious west. Arguably, it has regressed, politically and economically.
If you scrutinise developments since 1989 it becomes clear that certain elements simply utilised what they saw as a 'pause' in hositilities to strengthen their position, in preparation for a return to their preferred normality.
Thus, NATO has expanded remorselessly eastwards, its generals exploiting the peace to lay the groundwork for war. In fact, this expansion is in breach of the agreement reached between then President Reagan and the Soviet Union's Mikhail Gorbachev, a deal which brought that Cold War to an end.
Today, ten former Warsaw Pact members belong to the North Atlantic Treaty Organisation - its very title betrays the limits of a mandate that should make a nonsense of the drive to the east.
In 1989, NATO forces sat on the German border. Today, they are in the Czech Republic, Slovakia, Hungary, Poland, Romania, Albania, Bulgaria, Estonia, Latvia and Lithuania. And of course Georgia is a prospective member - with strident support of President Bush - along with the Ukraine.
The latter is home to a large ethnic Russian minority and also the key strategic port of Sevastopol, the historic home for Russia's Black Sea Fleet, although Moscow currently leases the facilities.
And just to keep matters on the boil, Poland recently agreed to host offensive US missiles on its soil. That agreement was signed on August 20, as the Georgian crisis unfolded.
This followed Czech Republic agreement, in April, to host a US missile tracking radar system.
Washington claims the Polish-sited Interceptor missiles are to "protect our European Allies from any rogue threats." Washington has suggested that it was Iran they had in mind when the Polish missile plan was conceived, providing the only moment of light relief in an increasingly gloomy saga.
 
UNHOLY CONCOCTION
The fact that Iranian missiles cannot reach Europe does not appear to have deterred those behind the plan. They would probably be the same individuals who rejected a very plausible (Russian) offer to construct a joint US-Russian anti-missile system in Azerbaijan, a system specifically designed to destroy Iranian missiles on launch. Azerbaijan borders on Iran. Needless to say, Poland doesn't. Work that one out.
The Polish missile siting has ratcheted up tensions to a level unseen in over 30 years, with one Russian general pointing out that Poland has now made itself a target for Russian missiles. The fear is that Washington will use the Interceptor missiles to gain a strategic advantage over Moscow. In theory, the US could launch a pre-emptive strike and use the Interceptor missiles to smother a first Russian response.
In 1962, the US almost went to war over Soviet proposals to site missiles in Cuba - today, they site their own weapons as close to Russian borders as they can conceivably get. And add to this unholy concoction the prospect that the neoconservatives may retain control of the White House in November, with John McCain as President.
Even some Republicans are nervous at the prospect of McCain - a man of legendary ill-tempered outbursts - with his finger on the button. In the early 1990s, during the conflict in the Balkans the senator from Arizona called for "lights out in Belgrade" and demanded NATO use "any means necessary" to destroy Serbia.
And, of course, that was the conflict in which NATO went to war to forcibly separate an existing region (Kosovo) from a country. Now they demand Russia does the exact opposite. 

An Phoblacht Magazine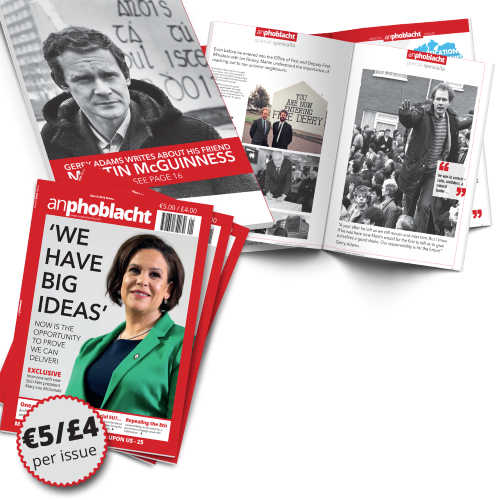 AN PHOBLACHT MAGAZINE:
The first edition of this new magazine will feature a 10 page special on the life and legacy of our leader Martin McGuinness to mark the first anniversary of his untimely passing.
It will include a personal reminiscence by Gerry Adams and contributions from the McGuinness family.
There will also be an exclusive interview with our new Uachtarán Mary Lou McDonald.
test