4 September 2008 Edition
Closure shows precarious position of chicken industry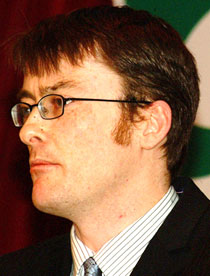 CHICKEN producers from around Ireland gathered in Cappoquin, County Waterford, on Monday to join growers and breeders in a rally to highlight the precarious position of the Irish chicken industry. The rally followed the news that the town's major industry, Cappoquin Chicken, has gone into liquidation.
Founded over 40 years ago, the company is a family-owned operation for three generations and employs 150 full-time and 100 part-time workers.
Some 45 to 50 farmers are also contracted to supply and rear chickens for the company and now face the prospect of losing their only market.
Cappoquin Chicken was the last remaining home-based chicken supplier in the south of the country following the closure of Castlemahon Foods in Limerick two years ago.
The effect of avian flu on chicken sales, sharp rises in feed and energy costs and imported chicken products from Thailand and South America are believed to be the main issues that drove the company into debt.
Sinn Féin Economy spokesperson Arthur Morgan TD has described the appointment of a liquidator to the company "a massive blow to west Waterford and east Cork. However, there is now a small window of opportunity within which the company can be saved and every effort must be made by all stakeholders to explore all avenues to secure the company's future viability."
Morgan pointed out that in January of this year a delegation from the Oireachtas Trade Enterprise and Employment Committee, of which he is a member, concluded a two-day visit to east Cork and Waterford.
"I proposed and secured the agreement of the committee to take on this job of work. Our objective was to assess what social, economic and infrastructural intervention was required of Government for regional towns experiencing consistent job losses, primarily due to the decline in traditional employment sectors such as manufacturing.
"What is evident in the Oireachtas Committees report is the need for the Government and its agencies to take a significantly more proactive and innovative approach to job creation, enterprise and employment."
The report also highlighted a decline in the Irish poultry sector. It outlined a number of factors behind this analysis including the sharp increase in feed prices and Irish poultry's challenge in competing with Brazilian produce within the US market.
"There can be no doubt that, like many small- and medium-size companies in Ireland, energy and fuel costs are adding a significant burden to the poultry sectors operational costs."
NEGLECT
Sinn Féin Waterford County Councillor David Cullinane pointed out that Cappoquin Chicken employs 150 full-time workers, 100 seasonal workers and 50 chicken and egg suppliers.
"They are totally dependent on the company for the sale of their own produce, making the company a substantial employer for west Waterford and east Cork.
"Government must act now to address the economic and social disadvantage of these areas due to successive Fianna Fáil-led governments' policy neglect. Throughout Ireland whole regions have been left behind. Government has not invested in the necessary infrastructure and service provision needed to build and promote a vibrant economy throughout the island.
"Tánaiste and Trade Minister Mary Coughlan cannot continue to sit on her hands waiting for jobs to simply land on the laps of those whose prospects of secure employment are most bleak."