21 August 2008 Edition
Coalition ignoring spiralling back-to-school costs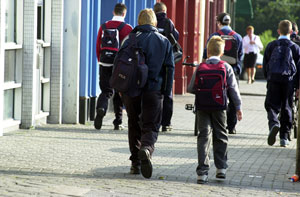 BY ROBBIE SMYTH

AUGUST might be the time of year when we grab that last chance at a summer break but for thousands of families it is time for another ritual: the back-to-school marathon of buying books, uniforms and other necessities like bags and sports gear. It all adds up to an expensive bill for Irish households.
September will see another year of packed primary schools, thousands of children in prefabricated buildings and more than 165,000 children dependent on school meals while, at the other end of the social spectrum, wealthy parents will be spending over €120 million sending their children to fee-paying schools and after-school grinds.
But what about the annual summer back-to-school shopping trips? In 2004, the National Parents' Council estimated that the average cost of sending a child to primary school was €1,023 for the year, a figure that doesn't take into account school tours, after-hours sports, or after-school care payments which can run into thousands of euro over the school year.
The National Congress of Catholic Schools Parents' Association (NCCSPA) reckoned in 2006 that the bills for a child entering secondary school would top €1,000. This figure was generated by averaging uniform and Junior Certificate book costs and the now obligatory but 'voluntary' annual contribution that most schools request from parents.
Central Statistics Office inflation figures estimate that education costs have risen 7 per cent since 2006. This doesn't take into account the fact that schools are facing energy prices that have risen by 21 per cent in the same two years, and will rise by double figures again before the year end. We will see schools turning to parents across Ireland to meet heat and lighting costs. Normally schools would use parental contributions to invest in educational resources but, increasingly, these funds are being used to meet daily running costs of supposedly state-funded schools.
Then there are the transport costs, with higher bus and train fares imminent also as the enduringly high oil prices mean that transport companies will pass on more costs to consumers.

ALLOWANCES
There are back-to-school allowances for families on social welfare payments. The Department of Social and Family Affairs runs a clothing and footwear scheme. Children under the age of 11 will get a payment of €200 while children aged 12 to 17 will get €305. Given that the NCCSPA worked out that the cost of a secondary school student's "modest uniform, sportswear and overcoat" in 2006 at €450, the €305 from the Department of Social and Family Affairs will not meet the full costs faced by low-income families.
There is also a grant scheme to meet the cost of school books. To be eligible, students must come from families dependent mainly on social welfare payments or are on low incomes and receiving Family Income Supplement. Families experiencing financial hardship because of particular circumstances such as prolonged illness of a parent can also qualify.
There are limitations to both these schemes: they don't include costs like stationery, bags, sports equipment, and particularly footwear, which can be prohibitively expensive for low-income families. A child playing football, hurling and basketball needs two sets of footwear, helmet and camán, plus the relevant clothing for each sport.
There are other costs as increasing numbers of children need web access, PCs and printers at home; no schemes exist to subsidise these costs.
In Ireland, many of the school supply centres have moved online and you can order books from the School Supply Centre or School Books Online and Schoolbooks.ie. For low-income families who don't have car transport, this would be a great service but you need internet access and a credit or laser card to order books.
However, in some US states there are usable solutions to reducing the costs of back-to-school shopping. In North Carolina, the last weekend of July is a school sales tax-free weekend beginning on Friday morning until midnight on the Sunday. The VAT holiday began in 2001 and has now become an annual event with many retailers getting onboard, offering further reductions with some prices cut by up to 75 per cent for the weekend.
Under the scheme, all school clothing, shoes up to a price of $100, computers with a price tag of less than $3,500, textbooks, and school supplies are all tax free. The tax free weekend also includes swimsuits, baseball gloves, ice skates, helmets and shoulder pads. School bags are also tax free, as are lunch boxes and stationery.
The North Carolina scheme is certainly easier to operate for parents and covers a wider range of goods, but there are other problems facing schools and families this September.
With unemployment growing month on month a greater number of families will be slipping into poverty and their children exposed to ever greater degrees of deprivation.

TOO HUNGRY TO WORK
Barnardos, the children's charity and lobby group, released figures at the end of December 2007 which showed that 165,000 pupils in 1,800 schools were availing of free school meals every day.
A Barnardos survey of four primary schools in the Blanchardstown area of Dublin, published in December, showed that 18 per cent of children were often "too hungry to do their work in school". Barnardos had proposed that the school meals scheme should be rolled out to all schools where children were experiencing food poverty, though with tax revenue falling and the Coalition planning spending cutbacks it is highly unlikely that this will happen this year.
Total spending on schools meals for this year was to be €32 million, the book grant scheme costs were €13 million in 2006, but in the same school system 45 per cent of Leaving Certificate students were taking private grinds. A 2006 estimate put the total spend by 26-County households on private education at €120 million.
So this September hundreds of thousands of Irish children will be returning to an education system that at its core replicates inequality, where one in five pupils drop out of the system before their leaving certificate, where one in three children from disadvantaged areas have difficulty with basic reading and writing.
These are not insurmountable problems, investing in early childhood now could be the key to a better trained adult workforce within 20 years. Higher worker productivity would mean better paid workers, wealthier households with considerably less welfare dependency.
The consistent failure to invest in our youngest citizens makes you think that our children are not the only ones who should be sent back-to-school this September.
BACK-TO-SCHOOL CLOTHING AND FOOTWEAR ALLOWANCE
Qualifying criteria
BEING in receipt of a social welfare payment (including Family Income Supplement) or a Health Service Executive payment or you are:–
•    Taking part in an approved employment scheme, or
•    Taking part in a recognised education or training course
•    Involved in an Area Partnership Scheme
•    Attending a FÁS, Fáilte Ireland or LES training scheme. 
Your total household income must also be below set criteria.
The Citizens' Information Centres have the current qualifying criteria and are also accessible at citizeninformation.ie.
The income limits range from €408 a week for a couple with one child to €569 for a couple with four children; lone parents with one child have to have a weekly income of less than €348 to qualify. 
SCHOOL BOOKS GRANT SCHEME
Qualifying criteria
PUPILS eligible for assistance would be part of:
•    A family where there is genuine hardship because of unemployment,
•    Prolonged illness of a parent, large family size with inadequate means,
•    Single parenthood or other family circumstances (such as substance abuse), which might indicate a similar degree of financial hardship
Enquiries as to the payment of the grant should be addressed to Department of Education  and Science, Central Funds Unit, Cornamaddy, Athlone, County Westmeath. Telephone 090 648 3852 or 090 648 3853.

An Phoblacht Magazine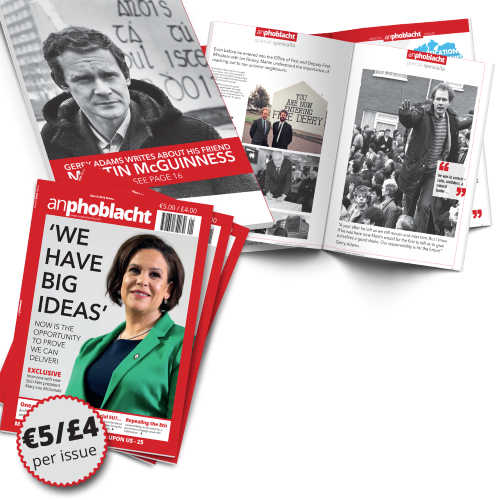 AN PHOBLACHT MAGAZINE:
The first edition of this new magazine will feature a 10 page special on the life and legacy of our leader Martin McGuinness to mark the first anniversary of his untimely passing.
It will include a personal reminiscence by Gerry Adams and contributions from the McGuinness family.
There will also be an exclusive interview with our new Uachtarán Mary Lou McDonald.
test