21 August 2008 Edition
Call for resolution of Donegal apprentice problems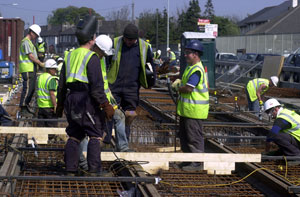 CHAIRPERSON of Sinn Féin in Donegal, Mick Quinn has called on the Irish Government to be "creative and imaginative" in trying to resolve the major problems facing apprentices who are attempting to complete construction related apprenticeships in the face of the downturn in the construction sector.
Quinn has suggested that all future government construction projects should include a contractual obligation to employ a proportional number of apprentices depending on the scale of the projects. "As a result of the downturn in the construction industry, many apprentices in this country and across the state have found themselves in a difficult situation. The problem arose when many of the employers who were sponsoring these apprentices have gone out of business simply do not have any work for them," said Quinn.
As a result of this many people who decided to take up a trade are not able to complete a course. Apprenticeship courses generally comprise of seven phrases, three of which are completed in a FÁS centre with the other four taking place "on-the-job" with a sponsor employer.
Quinn said that the fact that the sponsors now either have no work or have gone out of business has thrown the future education and employment prospects of hundreds of apprentices into question and that this has been further confirmed by FÁS who revealed last month that there were 984 redundant apprentices. Following this FÁS has allowed apprentices who are now unemployed to return to the training centre but "the importance of the hands-on on-site work experience is an invaluable part of these training courses and must be facilitated," continued Quinn.
The Donegal Sinn Féin chairperson concluded by calling on the Government in the 26 Counties to be "creative and imaginative in trying to resolve the major problems facing apprentices" and said implementing a clause in government contracts to employ apprentices would "allow many of these apprentices to complete their education, enter the workforce and help rebuild the economy."