21 August 2008 Edition
Silly season bites as journos stir up uni fees row

WITH August traditionally a quiet month for the media, Fianna Fáil Education Minister Batt O'Keefe's slightly puzzling decision to suggest the re-introduction of third level fees at the start of last week was welcomed joyously in newsrooms across Ireland.
Seán Flynn, the Times Education Editor, broke the story.
"In a significant policy change, Mr O'Keeffe told The Irish Times that third-level fees were back on the agenda. However he stressed there was no question of imposing new charges on those who could not afford them.
"Any new charges would specifically target better-off families and those with incomes well above the national average."
Morning Ireland on RTÉ should have killed the story the next day. As Aoife Hegarty pointed out the PDs and Greens were saying it wasn't in the Programme for Government. The Opposition was, well, opposing and Fianna Fáil backbenchers were lining up on Morning Ireland to say they were against it as well.
Hardly the start of a groundswell of support. And this was before Ferdinand Von Prondzynski, President of DCU and the most bolshie of the pro-fees university heads, told the Tribune that he was opposed to fees only being aimed at the better-off.
Yet no-one bothered to do the maths. If fees were only going to apply to the children of parents earning well into the six figures, how much money could it realistically raise?
Along with this, was a complete failure to grasp the notion that access to third level education could be seen as something that should be free to all. Also ignored, or explained away with fanatical determination as being caused by 'something else', was concrete evidence showing increases in participation at third level by young people from working class backgrounds since the abolition of fees.
Michael Clifford in the Tribune made some good arguments, but still missed the point.
"Reintroducing fees will do little for education disadvantage," he wrote. "Only proper investment in primary and pre-school can make inroads there. But it would bring to an end a blatant mechanism of wealth redistribution, which panders to a powerful section of the electorate, at the expense of the wider society."
And he's right in a way. Inequality in our education system starts at primary level, not on the cusp of third level. The solution is not to re-introduce fees to plough the money back into primary and secondary level. It is to adequately fund our education system through our taxation system. The elimination of fees was a positive step, but only a step, not the solution.
And as if fees wasn't enough, the media had a war to get into with the implications of Georgia's fiasco of an invasion of South Ossetia still rumbling. Lara Marlowe in the Irish Times was outstanding as always, reporting all week from Georgia and the South Ossetia border.
She was also quick to keep a questioning attitude to reports in the middle of a conflict zone.
"Georgian state television is quick to report alleged atrocities, for example the kidnapping of a five-year-old girl from a minibus carrying refugees....There is no doubt that the invaders have stolen a large number of cars, ransacked shops and burned houses. Accounts of rape, kidnapping and murder are more difficult to substantiate.
"Each time I delved into a report of a beheading or summary execution, it turned out to be second-or third-hand information, with one exception. A middle-aged woman named Cicino, from Kavaleti, told me: "People from the village gathered together and walked towards the Russians, to ask them for safety. They fired in the air. They shot at a handicapped young man who was running, and he fell dead. We buried him...Everything I tell you I saw, with my neighbours."
She finishes by reminding us that the bellicose statements from Washington on Putin are a new development.
"US journalists have mercilessly recalled the first meeting between Bush and Putin, in Slovenia in 2001," Marlowe wrote. "'I looked the man in the eye. I was able to get a sense of his soul,' Bush said at the time, calling Putin a 'straightforward and trustworthy man'.
Less naive are the thoughts of Misha Glenny in the New Statesman. "Who set the trap in Georgia?" he asked. "Vladimir Putin and his thuggish pals in the FSB, or Dick Cheney and his equally unflappable neocon friends?"
Glenny wonders why the US was so enthusiastic about urging the Georgians into a first strike against Russia and explores the heavy Israeli backing for the Georgian military. He puts forward the theory that a Presidential election campaign focussed on national security and not domestic issues suits the US Republican administration trying to re-elect McCain right now.
A little conspiracy theoryesque perhaps but an interesting piece nonetheless making some interesting points about the implications for the Georgian economy and coming up with the quote of the week for me. "Going to war with Russia," an economist is quoted as telling the Moscow Times, "is bad for your credit worthiness."
An Phoblacht Magazine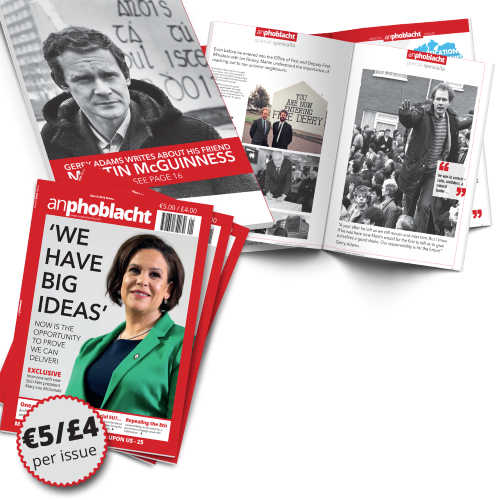 AN PHOBLACHT MAGAZINE:
The first edition of this new magazine will feature a 10 page special on the life and legacy of our leader Martin McGuinness to mark the first anniversary of his untimely passing.
It will include a personal reminiscence by Gerry Adams and contributions from the McGuinness family.
There will also be an exclusive interview with our new Uachtarán Mary Lou McDonald.
test