14 August 2008 Edition
Matt Treacy

Not backing the Dubs?
THE PERSON from Laois (I'm guessing but would put money on it) beside me during the Kilkenny/Cork match last Sunday maintained a continual mantra of "Sure, that's not hurling" and "Tyrone – Blanket defence. Sure, that's not hurling." Not a fan of the Cats obviously. I was tempted to ask him, given his reference to Tyrone, who he would be supporting this Saturday but I bit my tongue.
To claim that the present Kilkenny team is successful due to a negative approach to the game is absurd. They have certainly upped the stakes in terms of fitness and work rate but they are beyond doubt the best team of the past 30 years and proved that by the manner in which they overcame their main rival for that accolade last weekend.
Indeed, in some ways it was akin to 1978 and 1979 when the Kerry footballers easily beat Dublin to settle the question as to which of them were the better team over the period in which they dominated the game, similar to Kilkenny and Cork in hurling. Some questions regarding the Cats will remain if they do not go on now and beat either Tipperary or Waterford in the final but that is unlikely to happen.


THE other team chasing a three in a row are, of course, the Kerry footballers and they did little to call that into dispute in eventually overcoming Galway in terrible conditions and with a modicum of ease. It wasn't easy, of course, and for a period in the second half it looked as though Kerry might have faded in the same manner as they did against Cork but they have obviously come on from that. With similar tactical innovations as employed following their Munster final defeat by Cork two years ago, they will be hard beat by anyone, including Cork who made heavy enough work of getting past a severely limited Kildare side.


THE achievement of the week, however, was that of Wexford in beating Armagh and reaching their first semi-final since 1945. They can also be justifiably annoyed that some pundits focused more on Armagh's deficiencies rather than Wexford's strengths. Indeed, the Sunday Game discussion on RTÉ on Sunday night managed to avoid even mentioning Wexford at all! As though Armagh had somehow self-destructed or been shown up in a computer simulation.
Punditry has, however, rightly drawn attention to the fact that 'Ulster football' (if there is such a beast) has been exposed. That is a slight over-statement of the case, given that the emphasis on defence epitomised by Armagh and Tyrone in their heyday has also become part of most teams' approaches, Galway perhaps being somewhat unusual last Saturday in their almost naïve tactics.
Of course, what Armagh and Tyrone also had when at their best were formidable forward lines capable of taking advantage of most opportunities that came their way. Armagh were shown this year to be too dependent on old stalwarts like Clarke and McDonnell and they are past their best. In contrast, Mattie only seems to get better and, as I've said before, has better forwards around him than he has had for most of his playing time.


WEXFORD, unlike Dublin, also seem to thrive on playing Ulster teams and have an excellent record against them. Dublin supporters will be extracting confidence from the form lines this year – with the Dubs' hammering of Wexford the salient statistic – but statistics will count for little on Saturday.
Historically, Dublin have a great record against Ulster teams, winning 19 of 25 encounters in the Championship. Recent history, however, is bleak.
Since Donegal became the first Ulster side ever to beat Dublin in 1992, they have lost five of their last eight: Derry 1993, Down 1994, Armagh 2002 and 2003, and Tyrone 2005. The fact that on four of the five occasions their conquerors won the All-Ireland was no consolation.
That fact may, however, be significant in that Dublin were clearly meeting teams who were at the top of their form and indeed had chances to win all of those games with the exception of the 2005 replay when Tyrone taught them a lesson in the second half.


TYRONE are not the same team they were in 2005 and no team having lost Peter Canavan could possibly be. But more than that, and like Armagh, even though some of the faces are still the same, the legs are not.
Tyrone are maybe 65/70 per cent as effective now as they were in 2005. Dublin are maybe 15/20 per cent a better side in most aspects of their game. So if it was a computer simulation, Dublin's 4/9 odds would be justified and attractive.
Unfortunately, it is not a computer simulation. Other than a league match in Parnell Park in early 2004 and the infamous Battle of Omagh and the last quarter of the drawn quarter-final in 2005, Mickey Harte's teams have out-thought and out-fought the Dubs when it mattered. On paper, the teams have been evenly enough matched but Tyrone have won the important games, the big-stakes games, most notably in 2005 and the sell-out floodlit league game at the beginning of 2007.
In a game where Dublin would appear to have the physical and form advantages and the turning of the years behind them, you can be absolutely certain that Tyrone will seek to draw on their accumulated capital of previous big wins and their place in the collective psyche and to exploit any doubts or flaws which might linger in Dublin's character.
Personally, I would not back Dublin at current odds. Not that I don't think they might win. I think maybe this time they will but, at best, Dublin are marginal favourites and that will mean nothing to Tyrone.
The drawn game of 2005 was a classic and while this one may not be as open, it promises to be no less enthralling and no less important for both teams. For Dublin, it can mark a coming of age or a devastating setback far worse than Mayo. For Tyrone, it can be a sign that reports of their demise were drastically premature. Or a curtain fall, dignified or otherwise. Not to be missed.

An Phoblacht Magazine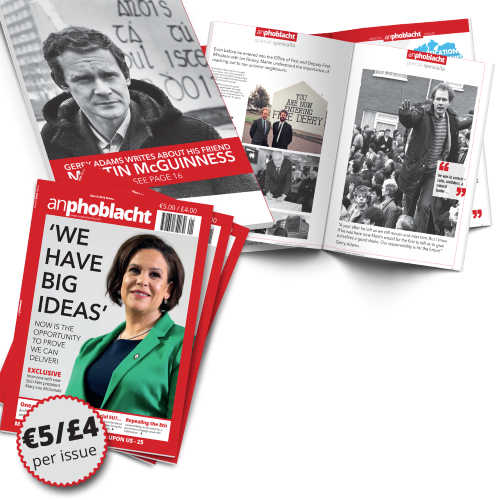 AN PHOBLACHT MAGAZINE:
The first edition of this new magazine will feature a 10 page special on the life and legacy of our leader Martin McGuinness to mark the first anniversary of his untimely passing.
It will include a personal reminiscence by Gerry Adams and contributions from the McGuinness family.
There will also be an exclusive interview with our new Uachtarán Mary Lou McDonald.
test