14 August 2008 Edition
They continue to inspire
This time 27 years ago the prison fast of hunger striker Michael Devine was drawing to a close. He died on 20 August 1981, the last of the ten H-Block martyrs to give his life in the epic struggle to break the British government's strategy of criminalizing Irish republican prisoners.
In the statement announcing the end of the Hunger Strike, the H-Block prisoners said: "Our comrades have lit with their very lives an eternal beacon which will inspire this nation..."
The prisoners smashed the criminalization policy. The final blow to that policy came two years later in 1983 when 38 IRA prisoners escaped from the H-Blocks on 25 September, the anniversary of the death in 1917 of Tomás Aghas, the first of 22 Irish republicans to die on hunger strike in the 20th century.
The prisoners triumphed over both the callous brutality of the British government and the craven collaboration of governments in Dublin. They appealed directly to the Irish people and won widespread support, transforming the republican struggle in the process.
The H-Block martyrs continue to inspire. This weekend thousands of people from all over Ireland and abroad will be in Derry to remember and honour them and to assert our determination to build their most lasting memorial – Irish unity and independence, the sovereignty of the people and real social and economic equality.


Comhghairdeas le Féile an Phobail
Sheol Uachtaráin Shinn Fein, Gearóid Mac Adhaimh, comhghairdeas leo siúd uile a raibh páirteach i bhFéile an Phobail i mBéal Feirste i mbliana.
Ba é seo 20ú Breithlá Fhéile an Phobail. Sár-chéiliuradh de shaol Iarthair Bhéal Feirste atá ann. Tá moladh tuillte ag gach duine a ghlac páirt ann. Bhí go leor scríobhnóirí, ealaíontóirí, áisteóirí, ceoltóirí, damhsóirí, muintir spóirt páirteach agus bhí am den scoth acu ar fad. Bhí a lán díospóireachtaí suimiúla ar chúrsaí aitiúla, náisiúnta agus idirnáisiúnta.
20 bliain ó shin bhí Rialtas na Breataine agus a chairde sna pháirtithe coimeádacha agus sna meáin cumarsáide in Éirinn ag iarraidh míchlú idirnáisiúnta a chur ar an bpobal in Iarthar Bhéal Feirste. Mar freagra cuí ar sin cuireadh an Fhéile ar bun agus anois is é ceann de na Féilte is mó agus is spreagúla, ní hamháin sa tír seo ach san Eoraip ar fad.
Go maire Féile an Phobail an chéad!
An Phoblacht Magazine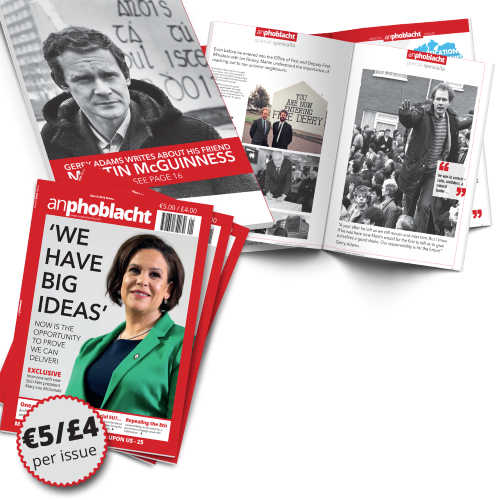 AN PHOBLACHT MAGAZINE:
The first edition of this new magazine will feature a 10 page special on the life and legacy of our leader Martin McGuinness to mark the first anniversary of his untimely passing.
It will include a personal reminiscence by Gerry Adams and contributions from the McGuinness family.
There will also be an exclusive interview with our new Uachtarán Mary Lou McDonald.
test