14 August 2008 Edition
THE DRUGS CRISIS : Ella O'Dwyer talks to people in the frontline of the ongoing fight against drugs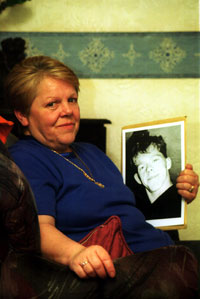 'Drugs can knock on any door'
IN the early 1980s it was obvious that in Dublin's Inner city the drug problem was out of control. The signs were everywhere – syringes were found on the stairwells of flats complexes, break-ins were on the rise, people from all over the city were arriving at particular residents' doors hoping to buy drugs.
St Joseph's Mansions (now Killarney Court), close to Connolly rail station, was a typical example of the kind of area where the community rose up against the drug dealers, fought their corner and put a halt to the dealing.

Bernie Howard, Crinan Youth Project
Bernie Howard works with the Crinan Youth Project on Seán McDermott Street, just up from Killarney Court.  The organisation has been working for 12 years now and is funded by the Health Service Executive and City of Dublin Youth Service Board but needs more resources and more funding.  Crinan was set up in response to the heroin crisis in this area in the 1990s.
"We've five full-time workers and three part-time. We work with people under 21 years of age in an holistic way.
"They have to buy into the whole programme, which is medical, therapeutic and educational. We do alternative healing like yoga and relaxation and acupuncture and we have art classes. It's non-residential and the young people come every day up to 4pm. Nobody is turned away from our door."
Bernie's son, Stephen Howard, was a heroin addict. He commited suicide in 1995 after being turned down for psychological help. His mother had phoned St Vincent's Hospital on 16 July that year when her son showed serious suicidal tendencies but they wouldn't take him in because he was an addict. This was after years of Bernie trying to find all sorts of ways of easing Stephen's physical and psychological pain – including walking the streets in search of methadone for sale.
"I got involved in the anti-drugs issues since the 1990s when it knocked at my own door. My son, Stephen, was an addict and it devastated my family. We knew nothing about addiction and we couldn't get information on the problem or help at all. There were a couple of clinics but nothing for under-18s. My Stephen was 20 when, out of desperation, he committed suicide. He left a note asking me to help other addicts."
And Bernie was only one of a huge number of people in the inner city struggling to deal with the chaos that came with the drugs epidemic and which was compounded by a lack of resources and financial support.
As for the financial upturn of the Celtic Tiger period, Bernie said:
"In many parts of the city the Celtic Tiger didn't arrive at all. I always say he jumped over the inner city and shat on us."

Tony Geoghegan, Merchants' Quay Ireland
The Merchants' Quay Ireland project in Dublin is one of Ireland's leading support organisations for drug addicts. Tony Geoghegan has worked with the organisation for over 20 years.
"The last study, conducted in 2003, gave an estimate of 14,500 heroin addicts in Ireland with 12,500 of them from the broader Dublin area extending from Drogheda to Arklow and 2,000 from the rest of the country," Tony says.
"There are 9,500 registered methadone users but there's no real breakdown on the geographical location of these people. The HSE doesn't release those figures for reasons of confidentiality as it could be easy in rural areas to identify the individual."
Estimates for the number of cocaine users are more complex.

'Coke' was traditionally considered to be the rich man's drug and in the 1970s and 1980s would have been associated with rock stars or movie stars because it was so expensive. But that's changed, as Tony points out:
 "Coke users come from every profession.  If they came here and looked around at the others they would think 'I don't belong here' because they don't see themselves as serious drug users."
So is there any idea of numbers using cocaine?
"There's no real figure on cocaine users. It's impossible to estimate it for one reason – there are an awful lot of people who use both heroin and cocaine but they wouldn't be using cocaine everyday, it wouldn't be their primary drug.
"They might binge on cocaine on a weekend and use heroin every day or when they have money and that kind of bingeing has a very destabilising affect on heroin users who would otherwise be doing quite well on treatment. They kind of go off the rails with the additional use of coke.
"Coke is a fast drug in that it's a stimulant so people are speedier and busier with it and also it has a phenomenal capacity to burn up money. With heroin you can only take so much of it and then you fall asleep; with coke you can take it and keep going and then take more for two or three days."
Why is drug addiction is so prevalent?
"It's part of the human condition.
"Over the centuries, people have taken some kind of drug or stimulant. In Ireland, when we couldn't get Guinness or the like we were making poitín.
"But I think also that the increase in drug taking is partly to do with increased wealth in that there has been more disposable income out there and also there's an increased individualisation rather than the broader consideration of family or community.
"It's much more a consumerist society now than in generations past. I think everybody has the potential to be addicted to drugs or alcohol. It's part of the human condition but in some cases circumstances come together to create addiction.
"It's not something that happens overnight. You don't become a raving alcoholic or drug addict overnight. It's a gradual thing that happens. The boundaries shift gradually People generally start by experimenting with drugs and they take them because they get a nice feel from them. Your boundaries shift and you get into a kind of self-denial with it.
"Drugs are very self-deluding. The amount of people who've said 'I could never self-inject – I couldn't touch a needle' and yet somehow people cross over that boundary."
The Merchants' Quay project provides a needle exchange service (swapping clean needles for used ones to combat infection) and Tony believes there's an argument for having the same provision in prisons.
"There's already a methadone programme in prisons and of course methadone doesn't solve the problem. It will either stabilise the person so they can cope with life or it can work in that people gradually lessen their intake and come off all drugs. But the needle exchange lessens the danger of transmitting disease."
Tony takes me on walkabout to see the various services available at the Merchants' Quay Project. He describes the base as a point of contact, usually catering for people who are living on the street.
"They come in for a meal, for a shower and laundry services and from there the aim is to find a pathway to additional services provided by the Merchants' Quay project centre in Chapelizod, where people can take courses in computers, English and other subjects."

'Patricia'
It was in the Merchants' Quay centre in Chapelizod that I met 37-year-old 'Patricia'. A mother of three, she is participating in a programme of training in computers, literacy and art. Yoga classes are also carried out in the Chapelizod centre. Patricia started to take drugs after she was raped at the age of 14.
"I was hanging around with fellas who were about ten years older than me and I became a kind of tomboy. I started with hash and valium and different painkillers and anti-depressants.
"I was in and out of Mountjoy at the time for robbing stupid things. Then I ended up in Beaumont Hospital because I took too many tablets. I detoxed there – came off everything and went to the Coolmine Centre near Blanchardstown. It's a place where you go to get your life back on track." 
But when she was 16 things went wrong again.
"I started taking heroin when I was 16. An older bloke gave it to me first. I had to get another woman to inject me."
It was Patricia's father, whose two sons had already died from drugs, who helped her to come off heroin. Now she's on methadone and is gradually reducing the level of intake.
"I'm on a low level now. I know I'm strong. I avoid people who are taking heroin. I don't mix with the wrong crowd anymore. If I meet someone and they ask me if I want drugs I'll tell them to get lost and ask 'Do I look like an addict?'," she laughs.
"A lot of it is mind over matter. Taking heroin doesn't take problems away – it'll be still there when you come down off the high."

Aengus Ó Snodaigh, Sinn Féin TD
While heroin was a symptom of a lack of hope, especially during the last recession, it also thrived during the Celtic Tiger era. Sinn Féin spokesperson on Justice Aengus Ó Snodaigh points out:
"Once people got addicted to the heroin it didn't make any difference whether you were in the recession or on the back of the Celtic Tiger – you were addicted and you had to feed your habit and to feed the habit the addict would get involved in crime or prostitution. And, of course, the so-called Celtic Tiger didn't materialise for a lot of people.
"Cocaine was traditionally the rich man's drug and that could be part of the reason why it exploded during the last decade but the main factor is the increased availability of the drug because Colombian cartels just flooded the world with cocaine.
"The cocaine problem has exploded out of all proportions and we have been warning that it was coming down the track and that it was a lot worse a problem than the state was admitting. Now the problem is that cocaine is widely available and relatively cheap.
"Heroin hit Ireland in the early 1980s and then the communities reacted and set up the Concerned Parents Against Drugs (CPAD), which managed to put a halt to the problem to a degree – not reverse it but halt it.
"The Garda reacted against the CPAD because they perceived them as vigilantes and also they felt threatened because communities were acting on their own initiative.
"They also saw that in some areas republicans were involved in the CPAD.
"Cocaine came into Ireland in the last ten years. It's linked to the Celtic Tiger as there's more disposable income. Users of heroin could be paying a hundred a day but with cocaine a person might spend two hundred on a weekend. The drug found in Offaly last month called crystal meth is a different kind of drug.  It's what they call 'the poor man's cocaine', chemically produced, more scary because it makes people even more aggressive and is highly addictive. One usage can leave someone addicted for life."
Ó Snodaigh thinks the Government didn't put enough resources into tackling the problem while the money was there.
"It's only last year that Regional Drugs Task Forces were established outside of Dublin. The first Dublin task force was set up the 1990s. They have had some level of success but they need more resources in terms of impacting on communities and educating young people about drugs.
The whole drugs issue wasn't prioritised. Even though it's a national crisis, up to recently it only really affected working-class areas but now it's everywhere, in all classes. There's more attention being given to it but it still isn't getting the attention it needs. The Minister for Drugs is John Curran and it falls under the Department of Community, Rural and Gaeltacht Affairs but I think it should come under three departments – Justice and Health and Education – overlapping between the three under a cabinet minister rather than a junior minister."
Aengus Ó Snodaigh believes that not enough has been done to stop drugs from getting into Ireland.
"While there have been arrests, especially lately, the Garda has not prioritised the drug problem. Compare it to how the fishing industry is policed for the sake of a couple of extra kilos of fish. It shows that their priorities are wrong. And then during the foot and mouth epidemic gardaí closed ports, airports and did everything to halt the problem even though the disease wasn't killing people, it was killing animals.
"Drugs are killing people."

An Phoblacht Magazine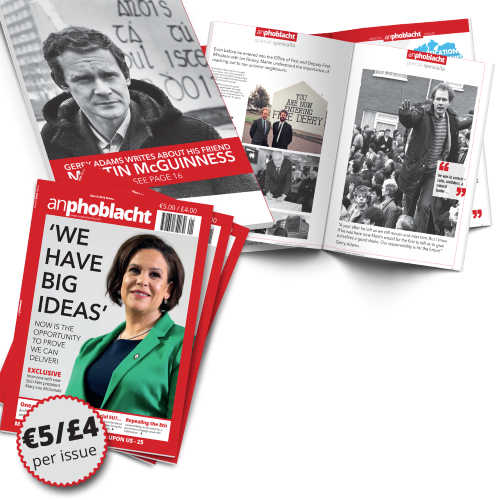 AN PHOBLACHT MAGAZINE:
The first edition of this new magazine will feature a 10 page special on the life and legacy of our leader Martin McGuinness to mark the first anniversary of his untimely passing.
It will include a personal reminiscence by Gerry Adams and contributions from the McGuinness family.
There will also be an exclusive interview with our new Uachtarán Mary Lou McDonald.
test