7 August 2008 Edition
Pay talks collapse and industrial action looms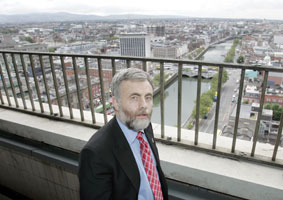 BY STEPHANIE LORD 
AS THE social partnership pay talks in the 26 Counties collapsed at the weekend, SIPTU, the largest union in the Irish Congress of Trade Unions, has warned of possible strike action if the employers' representative body, IBEC, attempts to block pay claims for SIPTU members.  
The talks collapsed as the social partners could not agree to a timetable for wage increases for workers over the next 18 months.
SIPTU General President Jack O'Connor said his union will lodge pay claims with individual companies due to the failure to reach agreement in the talks. There are no definitive plans to reconvene the talks but Taoiseach Brian Cowen is said to have plans to meet the social partners at the end of August. Jack O'Connor stated:
"We hope that agreements can be made on an employer by employer basis to protect workers' living standards without recourse to industrial unrest. However, any suggestion of a general direction by IBEC to employers to the effect they should refuse to engage with us would contravene most collective agreements and therefore raise the prospect of industrial unrest long before otherwise would be anticipated."

SEEDS OF UNREST
The Unite trade union is currently arranging meetings with its representatives and shop stewards to begin initiating pay claims. The Mandate trade union, which represents bar staff and workers in the retail sector, is also going to lodge individual claims with employers.
Mandate said that IBEC has sown the seeds of industrial unrest by directing its members not to negotiate with workers on pay claims and said that IBEC were responsible for the collapse of the pay talks. IBEC has asked its members not to engage with the unions on this issue. Mandate Assistant General Secretary Linda Tanham said:
"By telling their members not to engage in local collective bargaining, they are laying the foundations for serious industrial unrest."
She added that it is not feasible for the issue of increases to be left until the end of the month as low-paid workers are desperately in need of a pay rise to meet increased energy and food costs this winter.