7 August 2008 Edition
Hunger Strike memorial vandalised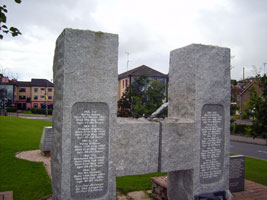 Sinn Féin MLA and former Hunger Striker Raymond McCartney has said that the people who vandalised the Hunger Strike memorial acted against the whole community. McCartney said,
"I was deeply disappointed to hear that the Hunger Strike memorial was damaged last night by vandals who removed the lark and who also stole the Irish Tricolour which had been erected to commemorate Kevin Lynch's anniversary.
"This vandalism is the latest in a line of vandalism in the greater Bogside area and people need to get respect for this area and stop this anti community activity.
"This monument erected to the memory of the Irish Hunger Strikes has stood untouched for many years now.  In fact people have respected the memorial to the point that photographs of individual Hunger Strikers set beside the memorial are never removed or damaged
"The Hunger Strikers gained the respect not only of the Republican community but other communities worldwide for their brave stance, indeed I have met Unionists and Loyalists who although didn't support them admired their courage.
"Whatever the motive of the people involved in this destruction I would appeal to them to respect this memorial as much as I would appeal to everyone to show respect to other memorials no matter what political differences exist.
"This monument will be repaired to its original state in honour of the Irish Hunger Strikers and I would appeal to people to refrain in this wanton damage and also appeal on the local community to be vigilant so that any further damage is avoided."