7 August 2008 Edition
Fifth Column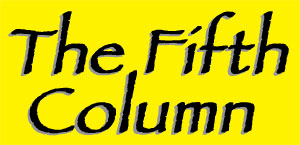 Barry George was a Para
BARRY GEORGE, the serial stalker cleared in London of murdering glamorous BBC TV presenter Jill Dando in 1999 was easy meat for detectives because he was known as "the local nutter".
The Independent newspaper in London described him as "the loner who stalked women, had a personality disorder, convictions for sex offences, an obsession with guns and an equally unhealthy fixation with celebrities".
Barry George claimed to be the cousin of Queen rock singer Freddie Mercury, a police officer and a stuntman. At various times he adopted the real names of Freddie Mercury, paedophile pop star Gary Glitter and an SAS Iranian Embassy siege soldier, Thomas Palmer. He also conned a local newspaper into printing a piece about his fantasy triumph at a karate championship.
And although it's claimed he didn't finish his basic training, Barry George somehow managed to serve almost a year from 1981 until November 1982 in the Territorial Army (reserve) battalion of the Parachute Regiment under an assumed name, Steve Majors (made up from the names of the real and fictional star of TV's The Six Million Dollar Man); 1982 was the same year he was found guilty of indecently assaulting a female civil servant he'd grabbed in a car park.
Obviously quality material for the 'elite' Parachute Regiment.


Fáilte Towers host is toast
PATRICIA McKENNA, the Green Party former MEP, certainly knows her onions as her weekend hissy fit on RTÉ TV's charity 'celebrity' reality show running a hotel, Fáilte Towers, shows.
A highly-strung Patricia went into overdrive on Sunday and charity went out the window when one of her co-workers put onions on the dinner plate of a customer who didn't want onions. Quelle culinary crime! Gordon Ramsay would have cowered in fear as the Green Goddess shredded Apprentice finalist Jennifer Maguire for her gourmet gaffe. And this was after Ms Onions snapped at Eurovision failure Joe McCaul over a bit of toast.
When she walks out of Fáilte Towers, Patricia McKenna's ambitions to run for President could be toast too.


Foxy manœuvre
A FAMILY in Germany is using a decommissioned British Army armoured vehicle as a family runaround to drop the kids off at school or going shopping at Lidl in Neu Anspach.
The Fox FV721 armored reconnaissance vehicle has been snapped up by Mr Joachim Schoeneich (and when a man's machine has a 30mm cannon and a 7.62mm heavy machine gun sticking out the bonnet, even Jeremy Clarkson would call him 'Mr').
Now I'm looking for something like a Fox ARV or maybe a Chieftain tank to get through Bedford Street in Belfast, although I'm not too sure about parking it in Beechmount.


Liberation lacies
PATTY HEARST, the US newspaper empire heiress abducted by the US guerrilla group, the Symbionese Liberation Army, in 1974 became a member and was photographed with a machine gun posing in front of an SLA banner. Now her daughter is posing... as the face and body of sexy lingerie.
Lydia Hearst this week shows off a range of 1940s-style underwear for makers Myla.
Having once been undercover, I can see myself in underwear (in YOUR dreams – Ed) and I'm thinking of launching my own range of 1970s-style republican clothing. I wonder if Martin McGuinness has any of those Gilbert O'Sullivan sleeveless pullovers tucked away anywhere.


PM's knicker knicker's past
AND while we're on the subject of knickers (this is getting more like a lads' mag than a political column – Ed), Australian Prime Minister Kevin Rudd has been uncovered as the descendant of a knicker knicker. The Oz PM's fifth great-grandmother was transported from England to Van Diemen's Land at the age of 12 for stealing another girl's dress and undies.
Rudd's great-granny survived on the streets in England by begging until, in 1788, she robbed an eight-year-old girl of all her clothes. At the Old Bailey, she was sentenced to death (!) but the sentence was commuted to transportation.
The PM's fourth great-grandfather was sentenced in 1801 to seven years' transportation for "unlawfully acquiring a bag of sugar", no doubt while shop-lifting in Ye Olde Tesco's.
There is little stigma among Aussies nowadays about the convict past of their ancestors and the Mormon Church archive official who revealed the Prime Minister's great-granny's lacy larceny says:
"A study of our personal history helps us to respect the struggles that our ancestors endured, in a far different world than one we live in today, to give us the prosperity we now enjoy." Something that judges the world over might care to remember on occasions.

An Phoblacht Magazine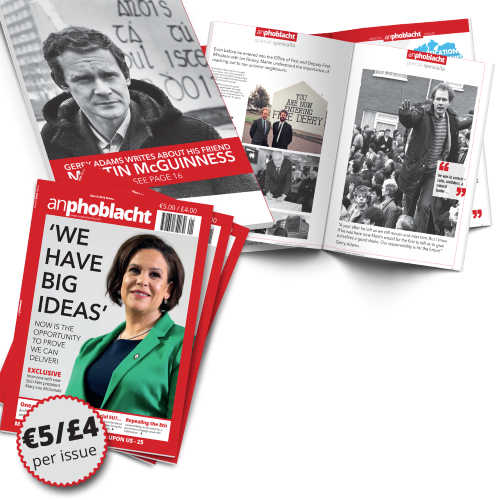 AN PHOBLACHT MAGAZINE:
The first edition of this new magazine will feature a 10 page special on the life and legacy of our leader Martin McGuinness to mark the first anniversary of his untimely passing.
It will include a personal reminiscence by Gerry Adams and contributions from the McGuinness family.
There will also be an exclusive interview with our new Uachtarán Mary Lou McDonald.
test