7 August 2008 Edition
Who needs democracy?
IN SATURDAY'S Irish Times, Michael McDowell fanboy Stephen Collins was making sure that any of his readers who might be curious at Steo's contempt for the Irish electorate were left in no doubt at just how massive it is.
Collins's solution to the Lisbon Treaty impasse is simple. Ignore the decision of the Irish people and ratify the treaty through the Dáil, something the Attorney General has said is legally impossible.
"The Taoiseach will have to summon up the nerve and vision displayed by Seán Lemass when he dragged the country into the modern world in the early 1960s, against some of the most basic instincts of his own party and a large chunk of the electorate."
Lemass, it should be remembered, had a democratic mandate for what he did.
"Our EU partners may not like it [What exactly does Stephen think EU leaders won't like about ignoring the wishes of the electorate?] but for them, as well as for us, it is a far less worse option than the prospect of the treaty collapsing altogether."
And sure, maybe we'd be grateful for our betters looking after things.
"A good proportion of the electorate might be relieved if the Dáil took on the responsibility of dealing with it, rather than opting for another long, drawn-out and confused public debate about issues people cannot, or will not, understand."
Sure and begorrah, Stephen, I'll tug me forelock in gratitude to you for taking the hard business of thinking away from me.
MEANWHILE, the collapse of social partnership, though rumours of life remaining in the body persist, caused an unusual outbreak of honesty in the Irish Times editorial writing team. In Monday's paper, they were clear about the benefits of partnership.
"It has been hugely beneficial in providing certainty to employers in respect of wage costs, ending the bad days of industrial strife, helping to nullify extremes across the industrial relations environment and, in a broader sense, delivering social progress for all."
It's delivered nothing on workers' rights, the rich have increased their wealth at a far faster rate than those sections of the working and middle class who saw some benefit, and for the last two pay deals the increases have been wiped out by inflation. And what 'broader sense' of social progress are the people from Killiney referring to?
Still, though, it gave certainty to employers in respect of low wage costs so it must be worth saving.
The end of partnership also caused some curious notions to appear in odd places. The Business Post's Pat Leahy had an interesting piece.
"We're about to be rudely awoken from the ten-year bliss of increasing public-spending budgets, take-home pay and decreasing taxes," he writes. True enough, though he ignores the fact that for working-class families indirect taxation clawed back as much, if not more, as had been won in income tax cuts.
Pointing out that day-to-day spending, let alone capital spending, is starting to outstrip income, Leahy has an idea not too dissimilar to arguments made in this paper.
"If... growth in public spending is to continue," wrote Pat Leahy in the Business Post, "the Government will have to increase the proportion of people's income it takes in taxation. Raising taxes is not just politically unpopular – it would be counterproductive in the medium term, acting as a brake on economic growth.
"In the western world, there are two basically different political views of how a country and an economy should be run. One is the 'European' model, where the state is pre-eminent, taking a greater share of people's income but providing an array of services and care for all people. The other, more 'American' model, emphasises individual freedom and responsibility, and consequently lower taxes."
Yes, indeed, boys and girls, someone in the Business Post talked about raising taxes to pay for public services without spontaneously combusting. A bit much to expect him to endorse it wholeheartedly, but progress is progress. Next week: An Phoblacht on the good points of partition.
Still on partnership and Terry McGeehan, the Star's angry man, was in no doubt about where the blame for the collapse in talks lay.
"Taoiseach, the reason the pay talks failed is the same reason the Lisbon Treaty failed  – and why everything else is doomed to fail in this busted failure of a discredited government of yours. We just don't trust you," he wrote on Tuesday.
Don't you hate this mealy-mouthed fence-sitting that so bedevils the tabloid media?
"If the unions played hardball it is because this government has blown the trust. If the unions entered the pay talks with an air of 'once bitten, twice shy', it is because they have witnessed this government apply one set of rules to the fat cats and another to ordinary people."
Having stuck the boot into Mary 'Poppins' Hanafin, The Dunce Dempsey, Morticia Harney, Clueless Cullen and the "unbearably smug moral guardians of Dáil Éireann" (the Greens), McGeehan ends by saying the entire Biffo bunch should be joining the dole queues or, better still, emigrating.
AND ending this week on the Star, they report that former Green Party MEP Patricia McKenna has seen her odds of winning on RTÉ's reality show Fáilte Towers slashed following a series of rows.
I caught the end of last Sunday's episode where Patricia went head to head with former Apprentice star and pointless celebrity Jennifer Maguire over how to take onions off a steak.
It's difficult to know what to make of this. I was always an admirer of Patrica and even though it's for charity it is still a bit depressing to see a formerly radical political activist dressing up as a waiter to look after a party of nudists in a fake hotel.
It's a long way from the European Parliament.
An Phoblacht Magazine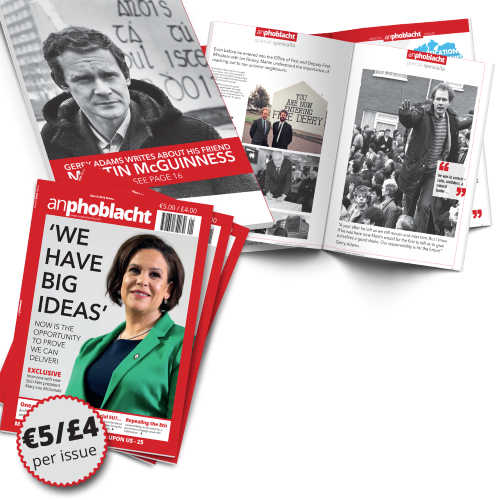 AN PHOBLACHT MAGAZINE:
The first edition of this new magazine will feature a 10 page special on the life and legacy of our leader Martin McGuinness to mark the first anniversary of his untimely passing.
It will include a personal reminiscence by Gerry Adams and contributions from the McGuinness family.
There will also be an exclusive interview with our new Uachtarán Mary Lou McDonald.
test