7 August 2008 Edition
Anger at nature of South Armagh raids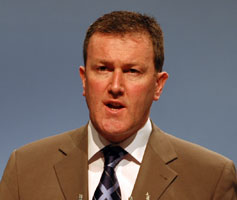 Newry and Armagh MP Conor Murphy has branded raids on a number of homes in South Armagh over the past week, including one on the home of two 80 year old pensioners, as 'heavy handed and unacceptable'.
The MP stated:
"Our position on the brutal murder of Paul Quinn is well known and we have consistently called on anyone with any information to make it immediately available to either the PSNI or An Garda. The conduct of the raids over the past week has angered many local people. Those who murdered Paul Quinn must be brought to justice. Ill-informed speculation and rumour along with heavy handed policing have no place in a campaign or a search for justice."
Over the course of the past week 18 houses have been raided and 11 people arrested. In many of the early morning raids doors were smashed as police broke into homes. Women and children were forced to remain in rooms and were subject to aggressive abuse from the heavily armed PSNI officers. In one case an 80-year-old couple were confined to a room as their home was subject to an intense search operation.
"All of this could have easily been avoided" said Murphy. "All of these people had previously volunteered their co-operation to the investigation after many were victims of a concerted campaign of demonisation and finger-pointing since the death of Paul Quinn by those seeking to exploit this brutal murder. The actions of the PSNI during these series of raids were totally unacceptable."
Conor Murphy confirmed that complaints in relation to the heavy handedness of the Police operation and the aggressive tactics deployed during the operations would be the subject of complaints to the Police Ombudsman.
"I am aware that many complaints were also made to local DPP members and I have no doubt these recent activities by the PSNI will be discussed by the members of the Policing Partnership as a matter of priority"
Murphy said that the actions of the PSNI in South Armagh this week would not deflect his party from the task of delivering an effective and accountable policing service for the community it serves.
"Sinn Féin is committed to effective, efficient and accountable policing. We have been solid in our support for policing and have continued to play a constructive role in developing the new beginning to policing that we all have embraced. However we will not shy away from challenging, criticising or questioning all aspects of policing when the need arises".
One of those who had been arrested by the PSNI and subsequently released without charge, said that he had been shocked not only by the hostile and heavy handed attack by the PSNI on his home, but by his arrest.
 "A large number of heavily armed PSNI officers broke their way into my home in an early morning raid, searched the house and were abusive to my family who were forced to remain in the house during the arrest operation. During my time in the Holding Centre, not one credible reason was given as to why I was arrested, and no evidence what so ever was produced in relation to the murder.
"It was a complete and utter waste of time and certainly has served no purpose in furthering the investigation or the search for the killers of Paul Quinn."