7 August 2008 Edition
All roads lead to Derry on 17 August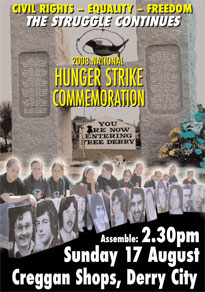 Preparations are well advanced for the National Hunger Strike Commemoration in Derry on 17 August. As well as the march which assembles at Creggan Shops at 2.30pm on Sunday 17 August, a number of other events have been organised in Derry.
Sinn Féin Councillor Brian McMahon has called on republicans from throughout the Strabane District to support the annual National Hunger Strike Commemoration. He said:
"As the National Hunger Strike Commemoration is being held in Derry for the first time, I would encourage as many local people as possible to make the short journey to our neighbouring town and join with thousands of other people from all over Ireland and further afield to remember with pride the sacrifice of ten brave comrades who died in Long Kesh during those turbulent summer months of 1981.
"The 1981 Hunger Strike was a pivotal event in the course of Irish history – it politicised and radicalised large sections of the Irish people and the sacrifice of the Hunger Strikers was the most formative event in many peoples' lives which influenced them in their decision to become involved in the struggle for Irish freedom.
"Sinn Féin is organising bus transport to and from the Commemoration and anyone wishing to book a seat should contact the local Constituency Office at Melvin Road for details: 028 71886464.
Celtfest
Anyone who is travelling to the National Hunger Strike commemoration next weekend from 15-17 August will not be short of entertainment as Derry is set to host its first 'Celtfest'. Such festivals are common across Europe and America and attract hundreds of fans of Ballad and Celtic rock music
Speaking about the event Alan Quinn the lead singer of the band Shebeen said "I am really looking forward to the Derry Celtfest. It's the first time something like this has been staged in Derry. Such festivals take place frequently in Europe, America and Australia.
"The concept has a proven track record and attracts hundreds of people who are into the Irish Ballad scene and Celtic music. As many bands as possible play over a period of two or three days in local bars and then come together for one large gig to round off the weekend."  
The Celtfest is to host some of the best in Irish and Celtic rock performances including Celtic Beat, Gary Óg, The Irish Brigade, Shebeen, Foggy Dew,  Cruncher Ó Neill, Anton Glackin and Pádraig Mór (Saoirse). The weekend's events will culminate with a gig in the Nerve Centre, Derry on Sunday night. Tickets are £10 and are available at the venue.