7 August 2008 Edition
Framework for policing progress agreed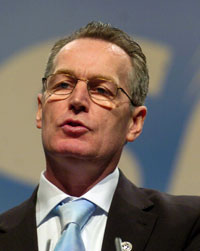 Sinn Féin and the DUP have made progress on the issue of the transfer of policing and justice powers from London to Belfast.
Speaking on Monday in Stormont after it was revealed that Sinn Féin and the DUP had reached an agreement on the model to which policing and justice powers would be transferred, Sinn Féin Assembly member Gerry Kelly said:
"The transfer of powers on policing and justice should have happened by May. Sinn Féin want to see it happen in the short time ahead. We have been involved in a series of meetings with the DUP on this issue.
"We have agreed with the DUP that powers would be transferred to a single department, with a single Minister elected by cross community support and that initially neither ourselves nor the DUP would take on that ministry. This is a significant development.
"Previously the all-party Programme for Government (PfG) committee identified the main issue to be resolved as the model. That has now been agreed.
"We have now asked the Assembly and Executive Review Committee to carry out a piece of work within a framework set out by OFM/DFM. This should be completed speedily."
Commenting on the development, Sinn Féin President Gerry Adams said on Tuesday that the party reserved the right to take the post of Justice Minister in the future and the agreement with the DUP was without prejudice to that right. He said it was a sensible deal designed to ensure the earliest possible transfer of powers.