7 August 2008 Edition
INTERNATIONAL : Uribe's dirty tricks to take credit for freeing Ingrid Betancourt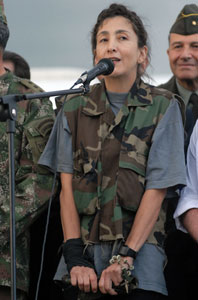 The Hostage

BY DARA MacNEILL

IT IS NOW almost six months since the Colombian Government launched a surprise attack on an encampment in neighbouring Ecuador and uncovered allegedly sensational and incontrovertible evidence that Venezuela's President Hugo Chavez was funding the Revolutionary Armed Forces of Colombia (FARC).
And their remarkable claims appeared to have been supported and corroborated by no less an authority than Interpol. Unfortunately, the government of Alvaro Uribe overestimated its own credibility and international standing, with the result that many quickly became suspicious of the often lurid claims emanating from Bogota.
Indeed, Interpol was quick to refute Colombian claims that it had uncovered encrypted messages on recovered FARC lap-tops that appeared to confirm the story of secret funding from oil-rich Caracas. The international agency merely confirmed the integrity of captured electronic data it had been handed but said it could not account for the time the same data had been in the custody of the Colombian Army and intelligence services.

QUESTIONS
Since then, the Uribe government has remained remarkably quiet, which itself tends to suggest that they too know that their sordid little plot has become unstuck.
It is now known that the temporary FARC camp, two kilometres inside Colombia's border with Ecuador, was hit by 10 GPS-guided 'smart' bombs in the early hours of 1 March, 2008. The Colombian authorities have cited US – and Brazilian-made planes from their air force as having launched the attack – but neither of these types is capable of using weaponry as sophisticated as that which destroyed the camp. There are now clear questions concerning how and from where those missiles were fired.
The missiles were powerful enough to kill 23 people in their sleep, destroy all surrounding vegetation and leave a crater that the Ecuadorean Army said was 2.4m wide and 1.8m deep. Yet from amidst the carnage and destruction, a number of FARC lap-tops, memory sticks and hard drives were to emerge wholly unscathed.
Or maybe they didn't.
When the Colombian authorities first contacted Interpol to seek their help they specifically referred to six devices: three computers and three USB keys. That was on 4 March, a full three days after the material had been captured.
Two days later and a letter to Interpol from another branch of the Colombian security forces speaks of eight devices: "three lap-tops, three USB keys and two hard drives". This is the first time the latter had been mentioned, a full five days after their alleged capture.
Yet before Interpol even began its work, the Colombian and international press was replete with lurid and sometimes laughable stories of what the captured data had supposedly yielded: FARC financing of Chavez before he came to power (a favour he supposedly returned in later years); FARC leaders finding refuge in the Venezuelan capital while their foot soldiers trained Chavez's army. And last, but not least, there were (invariably) the attempts by FARC to purchase uranium for a 'dirty bomb'.
Incidentally, the Colombian investigation was led by a General Oscar Naranjo, director general of the Colombian police. In a previous life, the self-same general headed the country's anti-narcotics police until his position was made untenable by the arrest of his brother in Germany in March 2007 on drug-trafficking charges. The general's brother was an associate of a notorious 'narco' named Wilmer Varela, shot dead in February of this year.
Of course, none of this is surprising in a country where the current president was named – by US Intelligence – as an associate of Pablo Escobar and the Medellin Cartel.

LAP-TOP FILES ALTERED
The Interpol report, which the Colombian Government claimed as substantiation for its wildest imaginings, made some observations which Bogota declined to make public. Firstly, it found that between the capture of the data on 1 March and its handover to Interpol on 3 March, the Colombian authorities accessed, modified, deleted and created new files.
Crucially, the manner in which this was done was, in the words of Interpol, in clear contravention of "internationally recognised principles for handling electronic data by law enforcement".
For example, one lap-top was found to have 273 new files created, 373 files accessed, 786 files modified and 488 files deleted after falling into Colombian hands. In all, some 48,055 files were deleted, modified or created in the three days between capture and handover to Interpol. As such, all of the captured data has now been irredeemably compromised.

HOSTAGE NEGOTIATIONS
One of those killed in the March attack was Raul Reyes, de facto 'foreign minister' for the FARC. It now appears that Reyes established the camp in Ecuador as a base from which to conduct hostage release negotiations and liaise with senior political representatives from France, Spain, Colombia, Venezuela, Ecuador and possibly the US.
It is now believed that Reyes was, at the time of the attack, finalising the release of the French-Colombian political figure, Ingrid Betancourt, and some US military 'contractors'. Indeed, in late February, a senior Colombian official told French representatives at a meeting in Panama that Reyes was the key to her release: "He's your man. He's the one that can help you get Ingrid freed."
It is now clear that all sides involved in the complex negotiations were convinced there would be high-profile hostage releases in March: which would explain the fury of Ecuador's President Rafael Correa, in the aftermath of the 1 March attack. "Look how low Uribe has sunk," he is reported to have said. "He knew that, in March, 12 hostages were going to be freed, including Ingrid Betancourt. He knew that and still used his contacts to spring this trap."
Last month, Uribe's military successfully freed Betancourt and the US hostages and scored a major propaganda coup. Yet it is now abundantly clear that his government was prepared to gamble with their lives and freedom simply to win political kudos at home and abroad. Cynical would be too kind a word.

An Phoblacht Magazine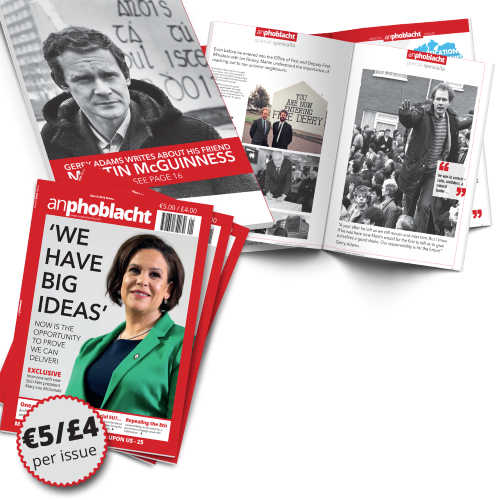 AN PHOBLACHT MAGAZINE:
The first edition of this new magazine will feature a 10 page special on the life and legacy of our leader Martin McGuinness to mark the first anniversary of his untimely passing.
It will include a personal reminiscence by Gerry Adams and contributions from the McGuinness family.
There will also be an exclusive interview with our new Uachtarán Mary Lou McDonald.
test