7 August 2008 Edition
Gerry Adams launches new 'Text to Join' recruitment drive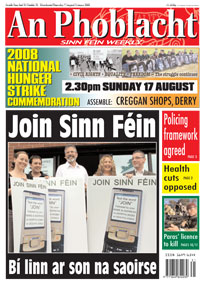 GERRY ADAMS this week launched the new 'Text to Join' Sinn Féin initiative outside the party's office on the Falls Road in west Belfast.
Adams was accompanied at the launch by north Belfast Councillors Tiarna Cunningham and Conor Maskey, east Belfast Sinn Féin representative Niall Ó Donnghaile, and by Lisburn Councillor Charlene O' Hara, the youngest councillor in Ireland.
Speaking at the launch, Adams said:
 "The 'Text to Join' initiative is a central part of a Sinn Féin drive to recruit new members the length and breadth of Ireland.
"Currently, people can phone, 'walk in' to Sinn Féin offices or e-mail to apply to join.
"The e-mail system, in recent times, has been the most successful method of recruiting new members to the party.
 "We are always thinking about new and innovative methods to reach out to people and make it easier for republicans from all over the country to join the party.
"We recognise that almost everyone has a mobile phone so why not 'Text to Join'?"
TEXT NUMBER
Sinn Féin has now set up a five-digit number and people can text 'JOIN' followed by their name and address to 60060 and apply to 'Join by Text'.
Gerry Adams said:
"We believe that this new development will bring more people into Sinn Féin to join the struggle for a united Ireland.
"Moving with technology can only benefit the party.''
Over the coming weeks and months, party activists will be distributing thousands of business cards with the 'Text to Join' details on them.
They will also be putting up banners from party offices to advertise the details of the recruitment drive and to make people aware of national and local websites where they can apply to join Sinn Féin.
So as they say in text language: Y nt txt 2 jn?