31 July 2008 Edition
British Army parade 'an affront to Irish nationalists'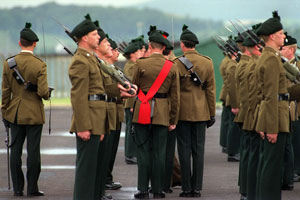 SINN FÉIN West Tyrone MLA Barry McElduff has dismissed suggestions that members of the British Army's notorious Royal Irish Regiment (formerly the Ulster Defence Regiment) should be given a so-called 'homecoming parade' on return from Afghanistan.
The campaign is being championed by The News Letter unionist daily and is being supported by various unionist politicians.
The UDR was an infantry regiment of the British Army formed in 1970 to replace the notorious B-Specials in the North. The largest regiment in the British Army, its membership was often interchangeable with membership of covert paramilitary murder gangs such as the UDA and UVF and was found to be involved in supplying weapons and military and RUC intelligence files to these groups to enable them to murder Catholics right across the Six Counties. It amalgamated in 1992 with the Royal Irish Rangers under the name of the Royal Irish Regiment.
ARMY OF OCCUPATION
Responding to the campaign for a homecoming parade in the North, Barry McElduff said:
"The British Army is not our army. It is an army of occupation with a brutal track record in Ireland, Afghanistan and Iraq, to name but a few of its 'international adventures'. Any parade would be an affront to Irish nationalists and republicans the length and breadth of Ireland. Such a parade would attempt to legitimise the illegal decision by then British Prime Minister Tony Blair to invade Afghanistan.
"Anyone who argues for a 'welcome home' reception for the British Army in Ireland has clearly lost the run of themselves and should catch themselves on. To those unionist politicians who are fronting this campaign, I would suggest that we have more pressing political priorities to deal with in the Assembly."