24 July 2008 Edition
Mapuche representatives meet Sinn Féin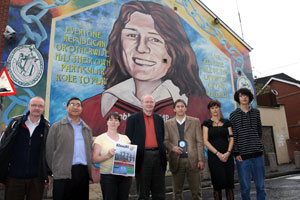 Jim Gibney Director of Sinn Féin's International Department along with Tom Holland and Teresa Brown met with representatives of the Mapuche people in the party's Falls Road Headquarters last Thursday 17 July.
The Sinn Féin Deputy First Minister Martin McGuinness also met with the delegation and welcomed them to Ireland.
Gustavo Quilaqueo, President of the Wallmapuwen Party which represents the interests of the Mapauche people whose homeland straddles Southern Chile and Argentina was accompanied at the meeting by Reynaldo Mariqueo General Secretary of the Wallmapuwen Party, his son Atus and Nina Dean who is a member of the Wallmapuwen steering group.
Welcoming Mr Quilaqueo and the other representatives of the Mapuche people to Belfast Jim Gibney said, "we in Sinn Féin are happy to exchange views and compare the political situations in Ireland with the situation in the Mapuche homeland.
"We in Sinn Féin hope that Quilaqueo and his colleagues can take something from our republican experinences as we work towards Irish self-determination".
The President of the Wallmapuwen Party thanked the Sinn Féin delegation for the meeting saying it was, "a valuable experience to learn at first hand how Sinn Féin dealt with their negotiations with the British government and the Unionists".