24 July 2008 Edition
Powerful stuff from Damo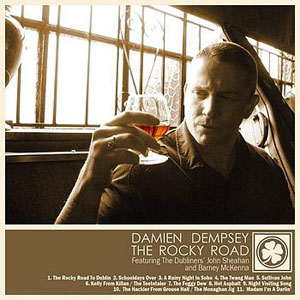 CD Review: Damien Dempsey - The Rocky Road.
Reviewed by Mícheál Mac Donncha

An album of traditional songs from Damien Dempsey has been long anticipated. Here it is and it has been well worth the wait. Damien is joined on this superb album by John Sheahan and Barney McKenna of the Dubliners.
John and Barney play fiddle and banjo but Damien is also joined in spirit by the legendary Luke Kelly, the late Frank Harte and the very much alive Christy Moore and Shane McGowan. This singer is steeped in the rich tradition of Irish balladry. It is epitomised by the title song, The Rocky Road to Dublin. Learned by Damien at family sing-songs this ballad was recorded by, among others, Luke Kelly and Liam Clancy. Each enriched the song with his own interpretation while preserving the original, just as Damien has done here.
Equally, Damien's version of The Foggy Dew, while evoking memories of Luke Kelly's unforgettable recording, is his own and he brings power and commitment to this most stirring of songs. It goes well with Kelly from Killan and the two songs have the dignity and defiance of the best rebel ballads. Shane McGowan's A Rainy Night in Soho is excellent and has deservedly been issued as a single.
This album shows that the Irish song tradition is still strong, even if it is not as fashionable as it once was. There was at one time a plethora of third-rate ballad groups, some of whom inflicted very inferior songs on us, a number of which, regrettably, have entered the republican repertoire. They gave ballad singing a bad name in the eyes of many people. On the other hand people writing and singing songs about their country's history and their people's experience is preferable to the processed pap churned out by the commercial music industry. Damien Dempsey has satirized this stuff on other albums. This record shows that he has every right to do so as he is imbued with the Irish tradition while also writing fine original songs himself.
I would encourage young republicans to learn the songs on this album and others like them. There is a rich heritage of ballads, including timeless rebel songs, beyond the narrow range endlessly reproduced on some 'rebel' albums.
Anyone who has seen Damien Demspey live knows the power of song and of the singer. Rush out and get this CD.
An Phoblacht Magazine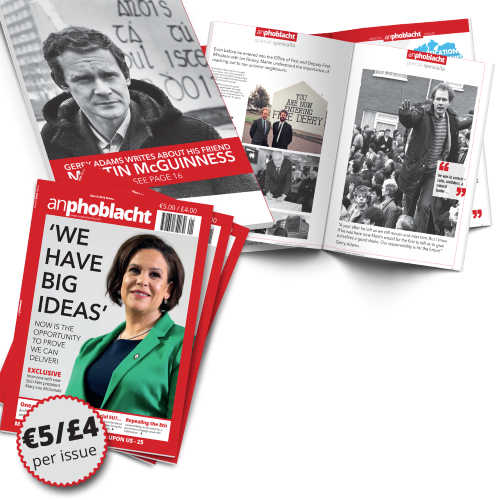 AN PHOBLACHT MAGAZINE:
The first edition of this new magazine will feature a 10 page special on the life and legacy of our leader Martin McGuinness to mark the first anniversary of his untimely passing.
It will include a personal reminiscence by Gerry Adams and contributions from the McGuinness family.
There will also be an exclusive interview with our new Uachtarán Mary Lou McDonald.
test