24 July 2008 Edition
Call for dismantling of Mountpottinger barracks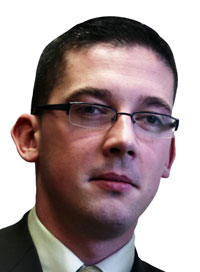 SINN FÉIN East Belfast representative Niall Ó Donnghaile has formally submitted the party's submission to a consultation on the future of Mountpottinger PSNI Barracks in the Short Strand area.
For decades Sinn Féin has joined the local community to call for the dismantling of Mountpottinger and its replacement with affordable and social homes.
"Our position remains that Mountpottinger must go, for years now our campaign has called for 'homes not forts', and that is what we will continue to work to achieve", Ó Donnghaile said.
"We accept also that communities need a high standard of effective community orientated policing. We are about getting that right for the people we represent. However the current presence and any planned retention of Mountpottinger Barracks does nothing to help process.
"Mountpottinger's days are over, it is a relic of intimidation, oppression and murder. The community want to see it gone. Over the coming weeks Sinn Féin will be collecting signatures from the local community for a petition calling for the removal of Mountpottinger", the Sinn Féin representative said on Wednesday.